Nasal Spray to Treat Covid-19- Early Report
Many drugs were tested in randomized, placebo-controlled trials in 2020-21 and most drugs were no better than placebo. Remdesivir is the exception. Dexamethasone was already an FDA approved drug for many years.
SaNOtize Research and Development Corp in Vancouver, Canada: This week there were several online reports of a Nitric Acid Nasal Spray (NONS) that was tested in a Phase 2 trial in the UK (79 NHS patients) and in over 7000 patients in Canada. The primary outcome measure in the UK trial was the difference in nasal SARS-CoV-2 RNA load from baseline through day 6. The nasal spray accelerated clearance of the virus by a factor of 16-fold vs placebo. NONS reduced the virus by more than 95% in infected participants within 24 hours of treatment and by more than 99% in 72 hours, including the B.1.1.7 variant. No adverse effects were seen in the treated patients and there are decades of experience with nitric acid as an anti-microbial agent. The spray was designed to kill the virus in the upper respiratory tract, preventing the virus from spreading to the lungs. The news articles say that they are applying for emergency approval in the UK and Canada, and will begin clinical trials to see if the nasal spray can also prevent disease after a Covid-19 contact. See Below.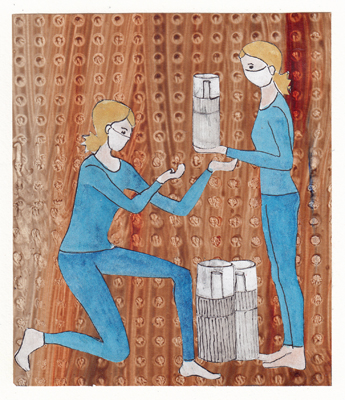 NOTE: The collage nasal sprays were magnified for effect. I also verified the reports of the safe antimicrobial activity of nitric acid against bacteria, viruses, and fungi using multiple methods to deliver the nitric acid. And searched for data from a Phase 3 trial, but couldn't find any. Maybe the UK and Canada can use Phase 2 Randomized Placebo Controlled Trial (RCT) data for an EUA application, I'm not familiar with their drug approval process. This is an exciting report that would be a much needed drug therapy for Covid-19!