Pregnancy and Covid-19
There is still a need for further clinical studies on the effect of SARS-CoV-2 on pregnancy. In general it is recommended that women follow all the public health safety measures to prevent getting Covid-19 at all during pregnancy. The studies show that Covid-19 is slightly more severe during pregnancy and there is a higher incidence of ventilators. But there is no increase in mortality. There is only very rare transmission of the virus to the babies, and it is not clear whether that occurred prior to or after delivery. The babies rarely have problems due to the virus and it is not transmitted in breast milk. Mothers who want to breast feed are recommended to perform strict hand washing and mask wearing while feeding the babies. Read Below.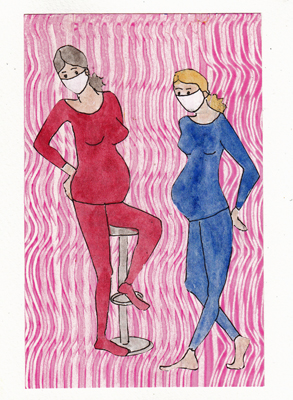 Doctors at NYU Hospitals in New York studied 149 mother-child dyads and it is one of the largest studies published to date. Forty% of the mothers were asymptomatic and picked up on screening. 15% of the symptomatic mothers required some type of respiratory support. Symptomatic mothers had a significant increase in preterm births ( 16% vs 3% P=0.02). Only 1 newborn was + for SARS-CoV-2 and that was believed to have happened post-partum. There were 3 sets of twins, 3 still births, and 1 post-natal death. (Publication in Pediatrics journal this month).