EUA! PROTESTERS! No Emergency Use Approval!
Three Vaccine developers began their Phase 3 Randomized Controlled Trials in the last several weeks. Each of them must enroll 30,000 healthy volunteers. Half of the group will receive vaccine injections and the other half will receive a saline (salt water) injection as placebo. Each volunteer will then be monitored for adverse events, and Covid-19. Subgroups will also be tested for efficacy -both development of antibody titers and neutralizing antibodies that block virus proliferation. In addition cellular immunity will be assessed by T helper cell activity. No one will know what shot they received until the end of the trial.
Continue Reading Below: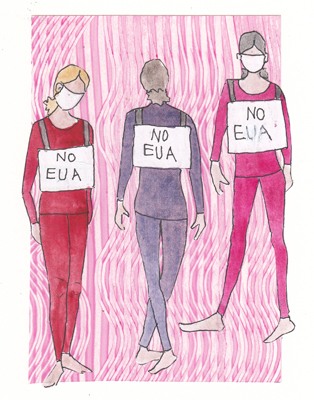 Evidence of prevention of Covid-19 will be monitored in the treatment and placebo groups and results may depend on the activity of the virus where they are enrolling volunteers. New York tests 50,000+ individuals each day, but the incidence of positive virus tests is only 1-1.5%. If volunteers are vaccinated in the states with increasing infectivity, enrollment and protection in the vaccinated vs the placebo group may be faster. Recently developed FDA guidelines for vaccine approval set the minimum at 50% protection by each vaccine for FDA approval.
BUT there may be political pressure to give "EMERGENCY USE APPROVAL" ("Pre-election Surprise) and then the government would be shortening the observation time for "rare, but significant" adverse effects to be seen. The FDA commissioner this week said that his decisions will only be based on SCIENCE - and we have to hope that he is a man of his word.