Masks, Masks, Wear Your Mask
We are going to have to learn how to live with this virus until the population is vaccinated, and natural infection increases herd immunity to more than 70%. Until we can be vaccinated, we MUST practice social distancing, hand washing, and mask wearing. There is data to suggest that masks keep us from spreading the virus, AND they also limit the amount of virus that we breathe in. When populations have protected themselves with masks they tend to have mild symptoms or are asymptomatic! See article link below.
On my morning walk I saw two store windows filled with these head mannequins and they had many different types of masks, in many different colors. There even was a black mask covered in Swarovski crystals! Why do you think that the masks on the left have a narrow sliver hole over the nose? The store was still closed early in the AM, or I would have asked them. I made masks for my husband and I, and our kids and grandkids that live in NYC. As my back continues to improve I will make more. I think we are destined to be wearing masks until 2021. I love the pattern I used, and will also include a link at the bottom of this post. Read more below.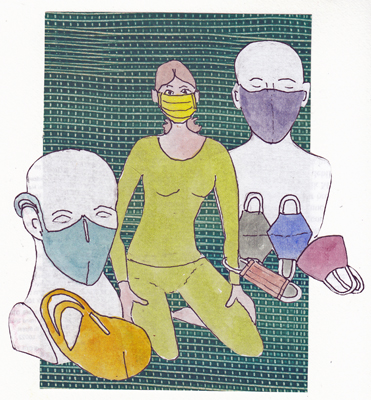 This week two companies began Phase 3 vaccine trials. They each need 30,000 healthy volunteers to determine if the vaccinated and placebo groups have a significant difference in Covid-19infection. Research Labs will also be measuring antibody titers and T cell responses in a cohort of the subjects. In order to have a definitive answer, infectivity in the geographic area must be high enough to make people sick - the FDA approval requires 50% protection in the vaccinated group - at a minimum. .
The "In Press" paper re: Masks is embedded in this article. This is not a clinical trial - just a collection of observations from the pandemic by a well trained infectious disease MD and public health expert.
I searched lots of mask patterns - and loved this video and pattern. I insert the elastic so it goes around my neck and head. Fits each of my family members better than other fabric masks they have - some like ear loops and some prefer the neck-head configuration. Cut and paste the link into your browser.
https://www.youtube.com/watch?v=1V3SLUHIJ5A