A Few More Sketchbook Pages from Martha's Vineyard
We had a wonderful visit with our friends in Martha's Vineyard this summer: an architectural tour in Edgartown, the new MV Museum, a performance by Vineyard Sound, a film at the Film Center (Inviolable), a play at the MV Playhouse (Dear Elizabeth), a visit to the Granary Art Gallery, and a surprise quilt exhibit by the Women of Color National Group. We also ate well and walked on the beach every morning for 2 miles.
These are the 10 college men in the group known as Vineyard Sound - an acapella group that performs almost everyday during the summer, somewhere on the island. I sketched them during the performance and painted them later. They were excellent and also funny!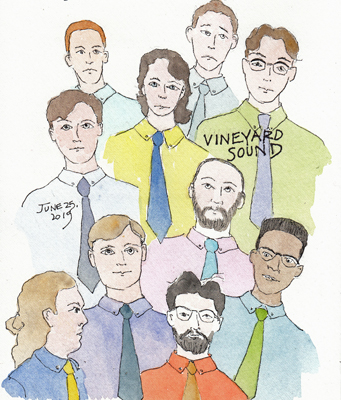 Since there were so few shells on the beach Bunny and I collected purple pieces of Quahog clam shells - known as "wampum" when used for currency by the Indians. We both planned to use them for an art project. I selected the darkest purple pieces, laid them out on the table in the shape of a flower and painted them. Can't wait to see what she will do with the others.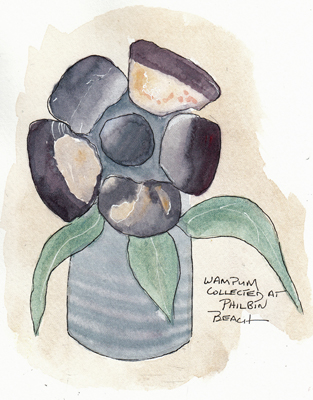 We make an annual visit to The Granary, a terrific art gallery with a mixture of paintings, sculptures, glass, and wood art. I sketched several things on the same page to remember the visit, and painted them later.