My New Paris Watercolor Sketchbook
We are going to Paris this Fall, and I always recycle a theme-appropriate book as a watercolor sketchbook for our trips. Five years ago it was a book of old Paris black and white photographs by Atget. This time I found a wonderful, used photography book called Paris in Color. I remove folios from the original book, mix them with folios of 140lb watercolor paper, and case-in the signatures to the original cover.
The original cover of the sketchbook, shown below, has a photomontage of the photos from the book.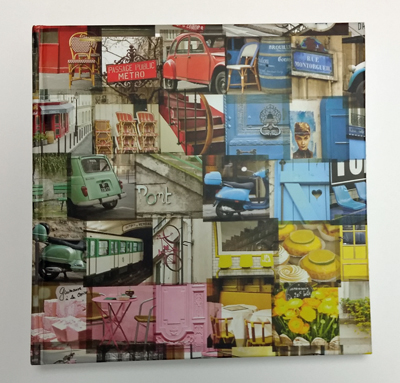 I used two of the original book folios for the front and back end papers. This is a photo of the front end papers in the completed book. We previously stayed in an apartment near the Conciergerie and Place Dauphine, so I loved that inner cover photo.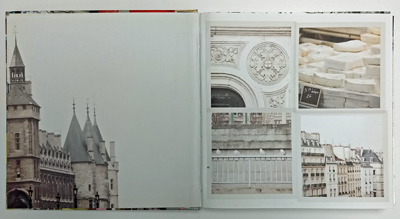 During a previous visit to Paris we saw a magnificent Givenchy exhibit with all of the actual clothes that Audrey Hepburn wore for her movies. This folio of Audrey and a painted blue door makes me remember a wonderful day from a previous trip.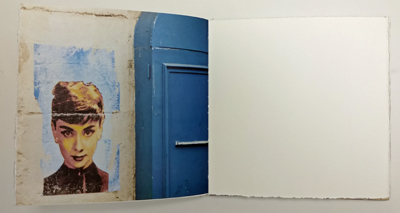 Another folio - with a characteristic menu from a Parisian neighborhood restaurant.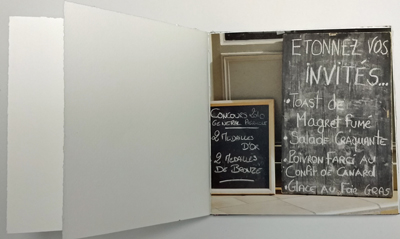 The photographer, Nicole Robertson, wrote that she walked around Paris and followed a color theme based on one of the first things she saw that day. The photographs in the book are arranged in color sequences, and portray common items of iconic Paris.
My book has 5 signatures, each with 2 folios of 140 lb Fabriano Artistico Watercolor paper. Six folios of Nicole Robertson's Paris photographs are divided among the signatures.
There is a text and photograph tutorial for my Recycled Watercolor Sketchbooks at this link: http://www.paperandthreads.com/2012/02/watercolor_sketchbook_tutorial.php