Andy Warhol: From A to B and Back Again
There is a large Andy Warhol Exhibit at the Whitney Museum. This is one of several exhibits of his art in NYC that I've seen - at the Met, MoMA, Morgan, and now at the Whitney. The MoMA and the Morgan introduced me to Warhol the Illustrator and I loved his drawings and book illustrations that were featured in their exhibit. I never had any feelings for his screen prints - too commercial and mechanical for my tastes.
After looking at the exhibit, and drawing, I joined a 4PM tour of the exhibit given by one of my friends, who led us, for an hour, from early Warhol, to late Warhol. Below are two Sketchbook pages I created while walking around the exhibit.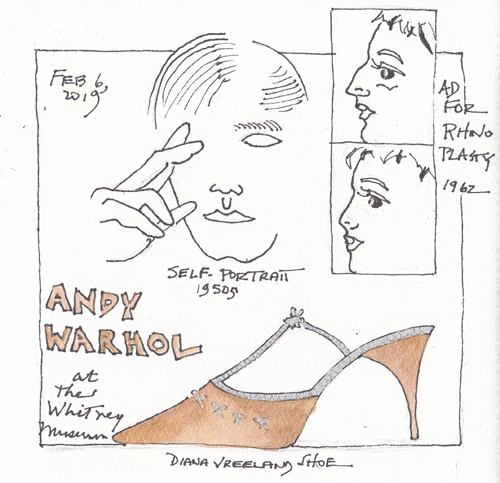 Here are a few of the early pieces that I liked. His ad for rhinoplasty led him to narrow his own nose. The Diana Vreeland shoe is one of his slipper series, in which he "designed" and made shoes and boots for a handful of celebrities. I used gold gouache to paint the shoe, he used gold leaf!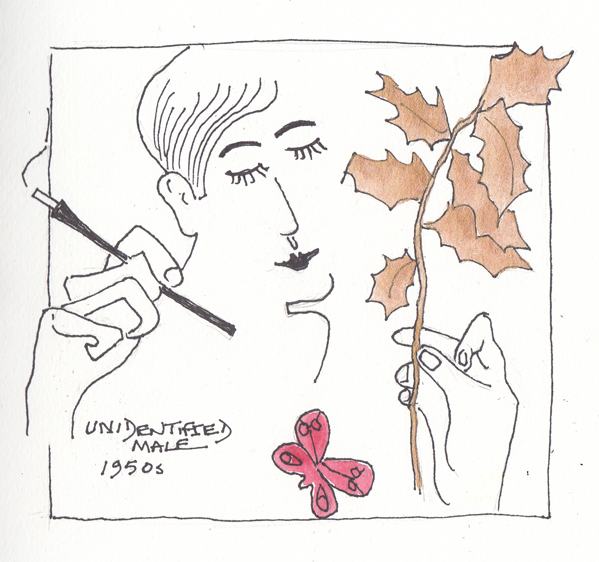 Hearing about his life, and the reasons behind his artistic development, allowed me to better understand his work. In addition, I'm taking an experimental screen printing class at FIT, and soon will understand some of his printing methods. The exhibit will close at the end of March, and then travel to 2 other major museums in the US. The website for the exhibit is huge. https://www.whitney.org/Exhibitions/AndyWarhol