Cultural Friday Feb 8, 2019
My husband and I scheduled an afternoon and an evening performance at Lincoln Center and then needed to decide how to spend the hours between the events. The Time Warner Center at Columbus Circle is a perfect place to browse and eat, making a trip back to our apartment less inviting. Landmarc is big, and it has a large enough menu for any time of the day. I sketched what I saw right in front of me and added paint at home.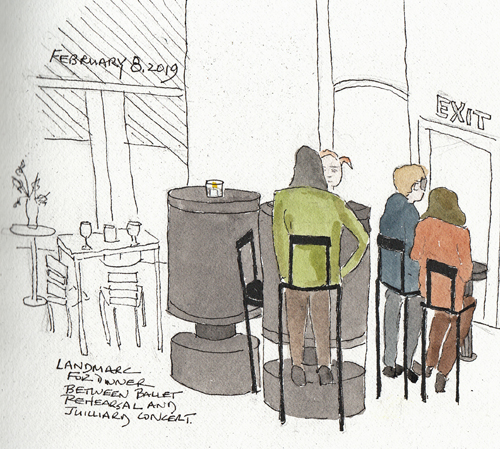 In the afternoon we saw a working rehearsal of the New York City Ballet. It was fun to see the 3 principle ballerinas all in gowns, and their partners all in random class clothes. This was obviously not only a rehearsal of "In the Night" set to a Chopin Nocturne. The dress skirts had many, many layers and these dancers were getting used to their costumes as well. This dancer came out to warm up for a few minutes when the lights were still on, and I tried to capture her arabesque from memory, because it was over in an instant. In the evening we saw the Juilliard Orchestra, conducted by Barbara Hannigan, and she is the most physical conductor I've ever seen. No sketches possible!