Julilliard Concerts Dec 4 and 6, 2018
We have tickets this week to 3 Juilliard Performances: Juilliard Jazz, Juilliard Orchestra with Itzhak Perlman conducting, and Juilliard Drama performing Sondheim's musical "Into the Woods." Our oldest grandson joined us for the Jazz concert, and two of our youngest grandchildren will go with us to see Into the Woods. These concerts are very reasonably priced and one of our favorite activities in NYC.
Juilliard Jazz with vocalist Carla Cook, a very experienced vocalist who sang "Billie Holiday Songs in a Swing Tradition": She practiced with the musicians for a week and couldn't have complimented them more. I managed to sketch 4 of the 6 on-stage performers in the first half of the concert.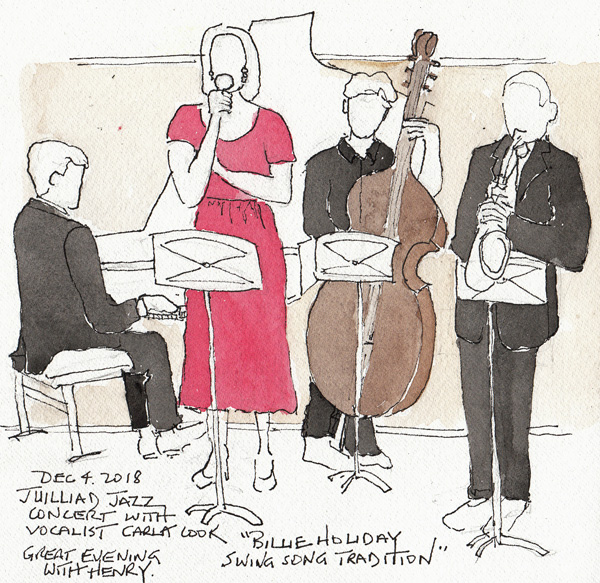 Photo of Juliett Jazz musicians from the concert program. There were different musicians for the second half of the concert. I wanted to include this photo because Zoe Obadia, who is pictured here, is one of our favorites. We actually wondered if we would see her this season, or would she have completed her degree program.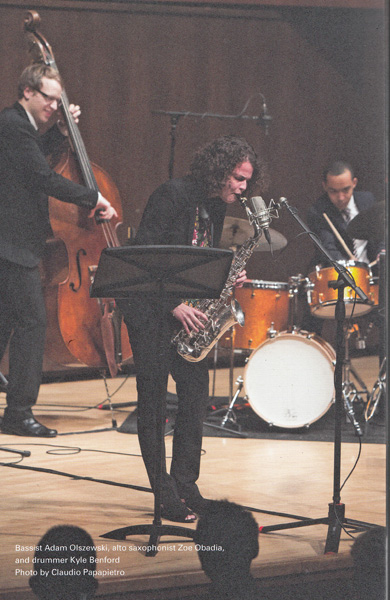 Last night we went back to Juilliard to watch Itzhak Perlman conduct the Juilliard Orchestra in a Dvorak Cello Concerto and Elgar's Enigma Variations. We were sitting in Row M Center, so I didn't bring my sketchbook. But then I found out Row M was 6 rows from the stage and I did have a pen and one of my small sheets of copy paper. After seeing the documentary "Itzhak" this summer I can't get enough of this giant of music. I wanted some sketchbook documentation that I saw him again - the first time was in a rehearsal of him playing a violin concerto with the NY Philharmonic.