Sketchbook Skool Week 3: Playing with Gouache
I bought tubes of Winsor Newton Artist Grade Gouache in September 2012 - and squeezed out paint into a new palette. I quickly learned that they flaked, and came out of the wells easily when they dried making them not portable.
This week our Sketchbook Skool artist Jennifer Orkin Lewis ("August Wren"), an illustrator, showed us how she used gouache and watercolor paints interchangeably and together, adding other layers to either a wet or dry layer. My 2012 tubes of gouache were dried out, but several months ago I bought myself a 12 color set of Pelikan pan gouache. Here are my color mixing studies that I did for homework.
Pelikan Set of 12 Gouache: Samples of the 12 colors on the top left. An opacity test on the bottom left. Mixing studies on the right, from top to bottom: 1 and 2: yellow and yellow ochre in the center, with progressive addition of 2 blues; 3 and 4:vermillion red and magenta red in the center with the addition of two blues, and finally 5 and 6: yellow and yellow ochre in the center with the addition of the two reds.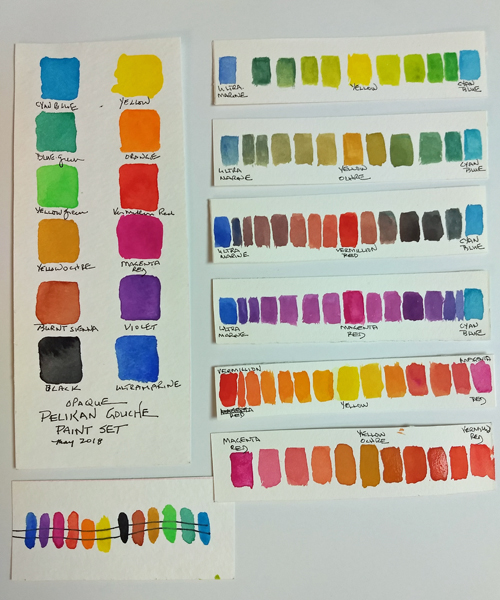 Testing combinations of paints: Watercolor and gouache over samples of dry gouache or watercolor; watercolor and gouache mixed on palette; gouache over dry gouache; and gouache mixed with Chinese white to increase the opacity.