Sketchbook Skool WHIMSICAL Homework for Anna Denise Floor
Anna Denise Floor has beautiful watercolor journals of her family life. Early in her project she started to develop layouts for her pages and showed us the five major 2 page spreads she uses as guidance. She draws from her imagination, capturing special moments of life, and I really enjoyed her sketchbook tour in our Whimsical Class. Our homework was to use her "storyboard layout" and show 5 things about us. We were supposed to limit our pages to two colors, and I really didn't want to do that. So here is my full homework spread - photographed whole because it is too big for my scanner - and two "half" pages which I scanned with overlaps.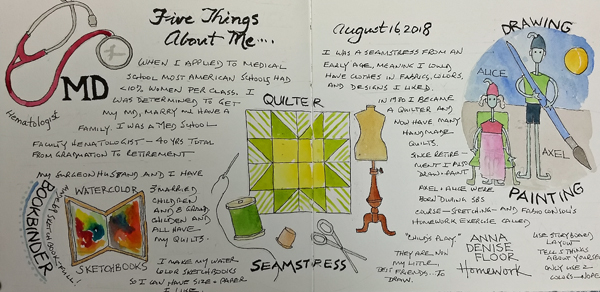 Left Side of Page: I illustrated and wrote about 1. my MD degree and my career, 2. Bookbinding to make watercolor sketchbooks that are the size and paper I like, My life as a 3. Quilter and 4. Seamstress.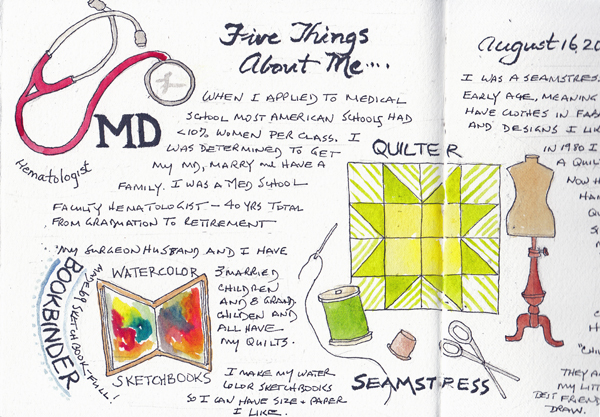 Right Side of Spread: Repeat of 3. Quilter and 4. Seamstress, and 5. Drawing and Painting in watercolor sketchbooks. I included my imaginary characters Axel and Alice because they first appeared in my imagination and homework for Fabio Consoli's homework in the Sketchbook Skool class IMAGINING.