My History With Watercolor and a Return to Being a Beginner
In 2003 I became interested in keeping a sketchbook, with the hope that I could also keep a travel sketchbook in the future. I sketched in pen and played with "watercolor," not even realizing that I was using The French School 12 pan set labeled Opaque Watercolor Gouache. For the next 2 years, when I could find time, I just had fun with a pencil, pen, and these student grade paints. I read two books: Cathy Johnson Painting Watercolors from the First Step Series, and Anne Elsworth Watercolor Skills Workbook. Both of them recommended buying artist grade watercolor paint as soon as you can because it is easy to get discouraged when you are using student grade paints with less pigment. Anne Elsworth recommended limiting the expense by limiting your palette - buying two triads of primary colors, one warm and one cool.
June 2005: I bought artist grade watercolors in 2004, but didn't use them for 1 year. These are my very first marks made with my 5 ml tubes of WinsorNewton professional paints. and samples of the secondary colors mixed with these primary colors.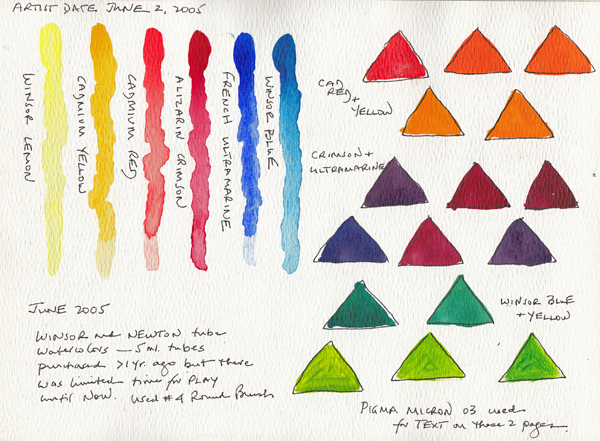 Jan 2006 - I started drawing/painting every day and made a color chart with each triad. This is the one made with the cool triad, which are at the 3 points of the triangle.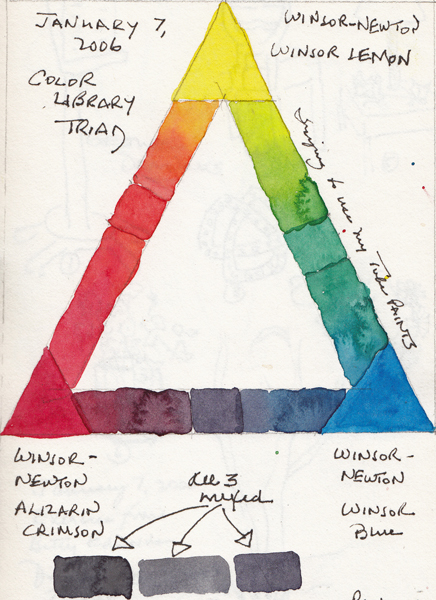 In 2008 I replaced the Cadmium Yellow with New Gamboge and Cadmuim Red with Scarlet Lake. I wanted to use more transparent pigments.
I added 3 convenience colors in the next few years to avoid having to mix grays and browns: Ivory Black, Neutral Tint, and VanDyke Brown. Someone on the Everyday Matters Yahoo Group then recommended another Triad - yellow ochre, burnt sienna, and paynes gray. So now I have 3 triads on my palette, and love mixing the secondary and complementary colors.

On Aug 7, I went to a free beginners watercolor session in Bryant Park because the instructor, Marilyn Rose, and I were two students in Danny Gregory's 2008 multisession Sketchbook course here in NYC. It is always fun to go back to basics, and I had a wonderful time painting these circles last week in the class using my own paper and palette. I chuckled when I remembered my beginnings one day in 2003 when my wet paints were migrating into each other, and I thought maybe that wouldn't happen if I left a thin strip of white paper between them.
This exercise is a good example of the various colors that can be mixed with my 3 triads of primary colors - and I loved it as a color mixing, wet-in-dry, and wet-in-wet exercise for me as well as the beginners.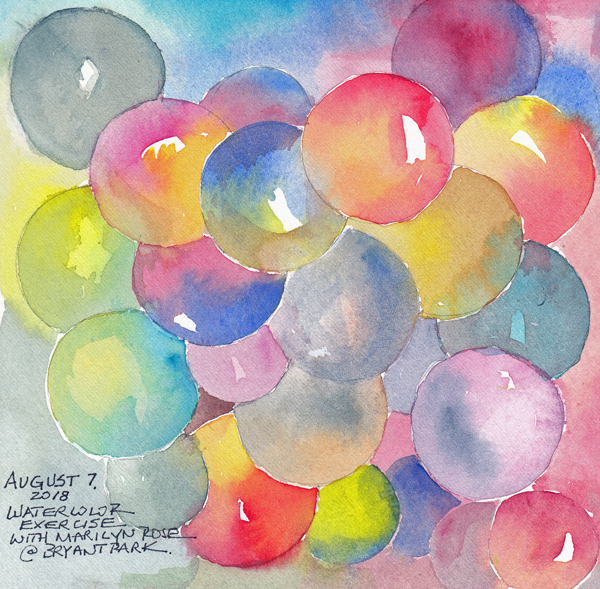 I'm very happy that I decided to create sketchbooks of my life as I was retiring. Learning how to use watercolors is part of the adventure and goal I set for myself. Colors make me so happy!