Urban Sketchers 30 X 30 Direct Painting Challenge
Day 30: This is the final direct painting (i.e. no lines) that I did for the challenge. My observations from the 30 days are listed below.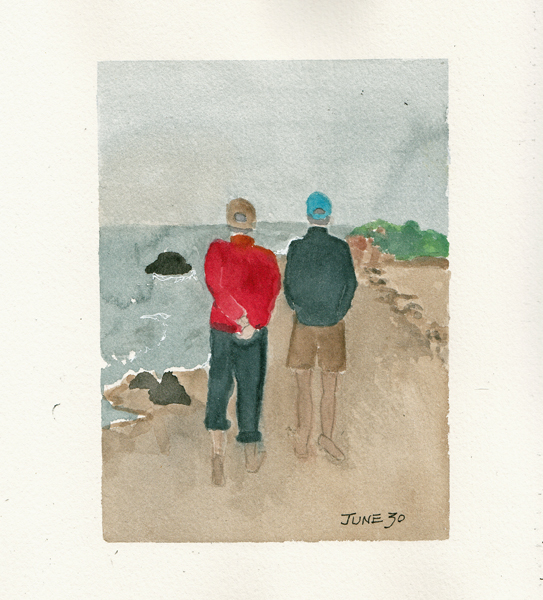 I love drawing, and really love lines, so I was skeptical about this challenge. But I'm very glad that I did it.
1. Each sketchbook painting took me longer than when I use pen-ink-and watercolor wash.
2. It was fun, but challenging, to paint white objects by first painting the negative space around them.
3. I could paint by direct observation if I was painting a non-moveable object/subject in my environment, but took photos to paint from for many of the challenge days, especially the above painting of my husband and friend walking along the beach.
4. I really had to concentrate on shapes as I applied the watercolor with a brush. I tried not to draw with a brush, and then fill in a shape.
5. I actually learned more about handling watercolors, even though I've been using them since 2003 - including use of wet-in-wet, allowing drying time, and glazing.
6. I liked having a dedicated sketchbook for the project - which took one sheet of 22 X 30 of 140 pound watercolor paper, and a simple pamphlet stitch (Teesha Moore's 16 page journal).
7. I can't use this technique when traveling unless I work completely from photos. My usual travel sketchbook pages are created by doing a quick drawing from observation, taking a photo to remember colors, and then adding watercolor later. My drawings are quick, and the only time I finish the painting at the same time is when my husband and I sit for a short while for coffee or a meal (45-60 minutes). He is good waiting the length of time it takes him to do a New York Times Crossword puzzle and I remind him to bring a page each time we leave the hotel or apartment.
8. I hope this becomes a yearly Urban Sketcher challenge for June. Knowing that other people were doing it at the same time gave me inspiration. I just hope there is a dedicated website set up so more people can share their daily paintings.