Urban Sketchers 30 X 30 Challenge: June 10-16
I am faithfully doing the 30 X 30 Urban Sketchers challenge this month and just passed the halfway mark. The challenge is to do "direct painting" using only paint and brush every day in June. I made a 16 page watercolor journal for the challenge from Teesha Moore's Tutorial on YouTube. https://www.youtube.com/watch?v=1z6qmXGRrsE
I usually do quick pencil drawings from observation, and paint my inked drawing on location or take a photo to paint at home (when in museums, galleries, or when there is no time). I see everything as a series of lines. Seeing only shapes is totally different and I'm so happy that I'm gaining this experience. I will have to develop these skills more after the month is over. But it is a start.
June 10 and 11: I like drawing and painting bottles, like Morandi, but not forever as he did. These were painted as shapes from photographs.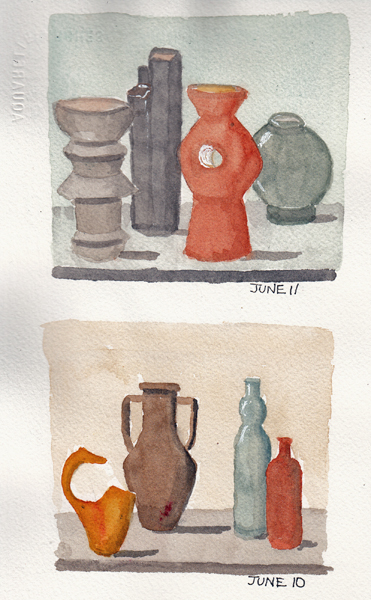 June 12 and 13: Two figures painted as shapes, from photographs. The lines on the far right are bookbinding thread from the pamphlet watercolor paper booklet I made for the challenge.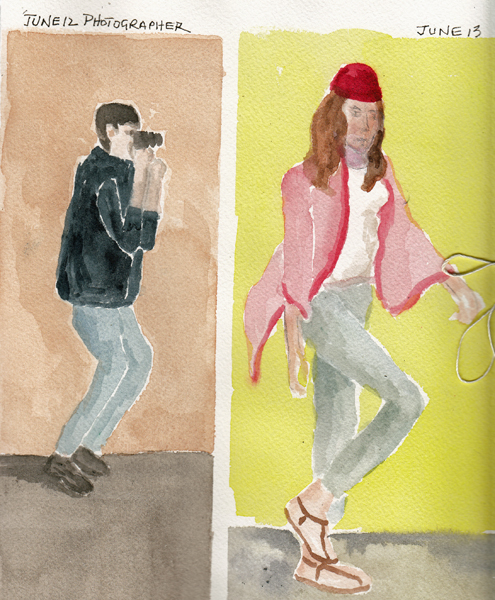 June 14, 15, and 16: Leaves and a Lily from photos I took at the Jefferson Market Garden, and Belvedere Castle from my stash of reference photos I took over the years in Central Park.