Different Varieties of Drawing Figures
I love to draw figures, and gravitate to drawings and paintings of Masters to practice my skills when I'm at museum and gallery exhibits. I saw a huge sumi ink and collage painting on paper by Kara Walker at MoMA this week. It measured approximately 12 X 18 feet in size, and contained 80 heads and figures. It is called Christ's Entry into Journalism (2017), and was inspired by slavery and misogyny, chronicling American racial history. I sketched her Confederate soldier. Exhibit ends June 22nd.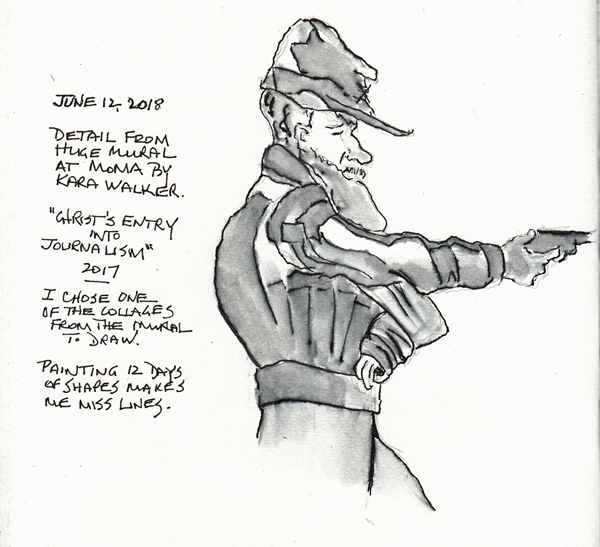 There is a new, exhausting exhibit of Giacometti's sculptures and paintings at the Guggenheim Museum NYC. Unlike a previous sculpture exhibit by David Smith at the Guggenheim, and Picasso at MoMA, there is enormous repetition of similar pieces in this exhibit. But I like Giacometti's art and specifically liked this table top sculpture of 3 figures. I would find a place for it if someone wanted to give it to us!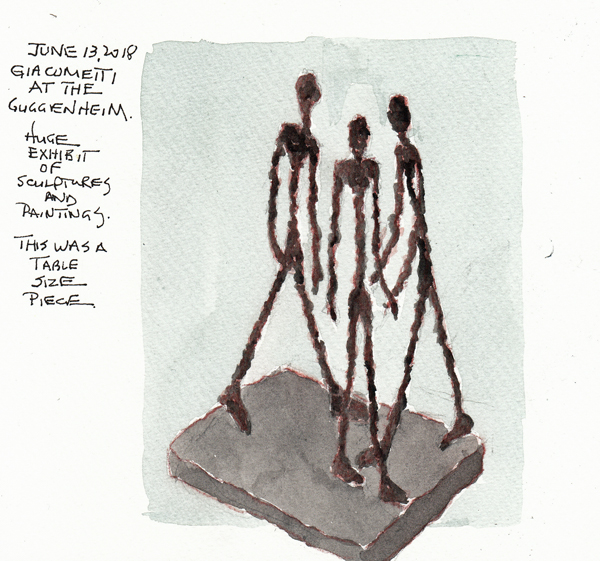 Line of Action Drawings: I watched a free Craftsy Class by Suhita Shirodkar called "Figure Drawing Made Simple" last Labor Day, and started to draw figures on 1/4th sheets of used copy paper to practice the technique. It has now become a habit for me to draw figures from magazines/catalogues after breakfast each morning. I did them with my non-dominant hand while my cast was on - and now continue. The following drawings were done after my cast was removed, with my dominant drawing hand.