Juilliard Jazz Orchestra, Art on Paper, Wine Bottles
Juilliard Jazz Orchestra - A drawing done while we were listening to the Jazz Orchestra play at Juilliard - always a delightful experience. My days got away from me and I decided not to paint the page.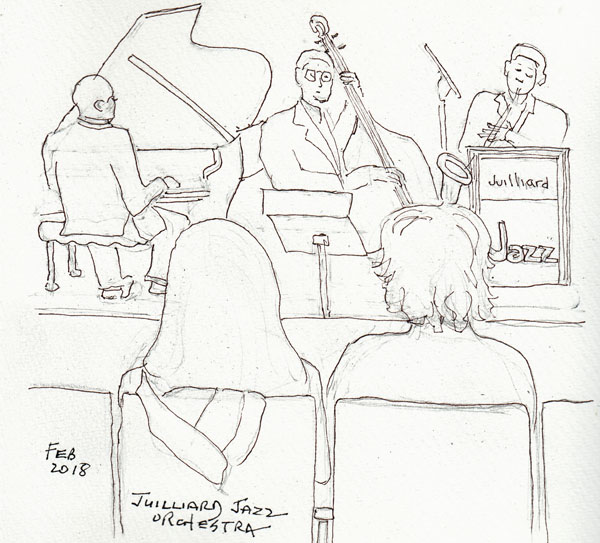 Art on Paper - An annual weekend art show on Pier 36 in NYC. I always enjoy the variety of artworks displayed and like to find one piece that I want to draw in my sketchbook to remember the day. This Picasso print was in John Szoke's booth, and it gave me an opportunity to use my Pentel Pocket Brush Pen.
Wine bottles at Tartinery - After the exhibit my husband and I walked through the Lower East Side to Little Italy for a mid-afternoon lunch. We sat at the bar to eat and I sketched the wine bottles in front of me. I just watched the second week of the first Strathmore 2018 online art program, and wanted to use masking fluid for the glass reflections. I used the squeeze bottle type of masking fluid, which I last used one year ago and the color had changed from light blue to green. After removing the mask, the green color remained on the paper! I need to go back to my Winsor-Newton masking fluid.