Sketchbook Skool Imagination Homework - Ohn Mar and Stefan
Sketchbook Skool Ohn Mar Win Videochat: I already posted my homework from Ohn Mar Win's Class. but on my wet-in-wet "watercolor play" homework, I left out the mark making until I divide it into magnetic bookmarks (Oct 14 Blog Post). When I subsequently watched an inspirational one hour+ Q and A session with Ohn Mar, I did a quick sketch of her with a pen and spent the rest of the time dreaming up types of pen marks I may make on my bookmarks. I love my very low stakes "Pen Sketcher" book that I used for this page, I feel so free to doodle and make messes.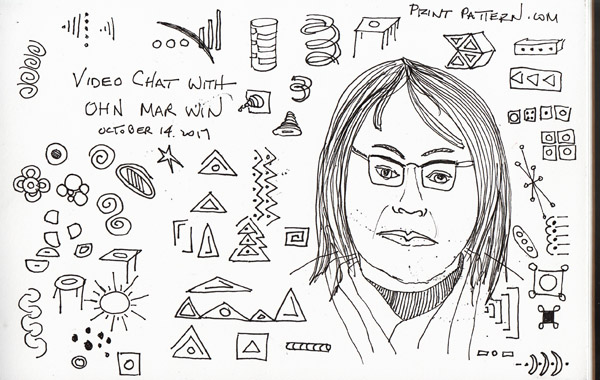 Sketchbook Skool IMAGINING Homework: Stefan Bucher
Our Week 4 IMAGINING artist and "creative" is Stefan Bucher, and although he is a creative in many fields, he also is known for his website Daily Monster. http://www.dailymonster.ink/
In class he demonstrated a technique based on fancy ink blots which he uses to start his monster drawings, and then assigned us the task as homework. I made two ink blots and used both to make my version of a monster.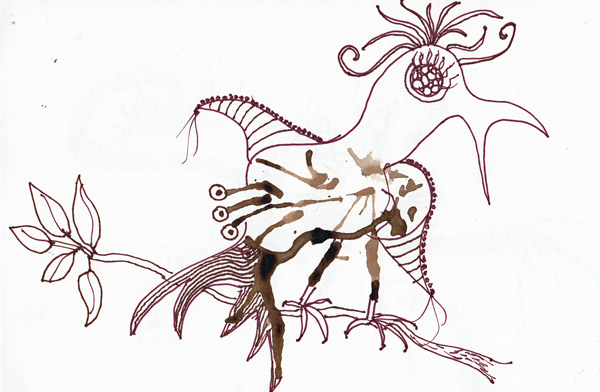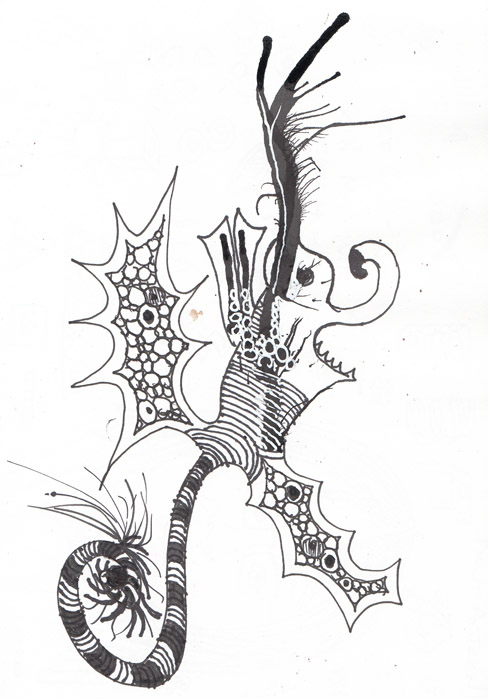 There is also a Ted talk by Stefan which I really enjoyed, and it is focused on his OCD mind that never stops wanting to create the next step in any project, I think you need to "cut and paste" this link. Don't stop watching the talk until you get to the Saks 5th Ave "Yeti" commission! It is my favorite part!
https://www.youtube.com/watch?v=Aqq68KbfDP4