Marathon Wednesday March 8, 2017
During February and March I spend Wednesday afternoon at Figure Drawing in Battery Park City, with multiple 2, 5, 10, and 20 minute poses. These are two of my drawings of Marilyn from yesterday. They were drawn with a General Sketch and Wash pencil of soluble graphite, and then "painted" with clear water. I was thrilled that I had two great hands to sketch, and I'm trying so hard to improve these skills.
XXX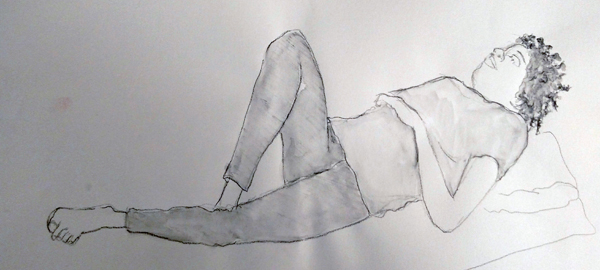 After supper at Hudson Eats in Brookfield Center, I move uptown to FIT for my Watercolor Comps Class. Last week we used a full palette, and tried to use pale and intense colors for a vase of sunflowers- reviewing how to control pigment and water. This week, our challenge was to significantly increase the amount of water we used, still controlling it, while painting a copy of a commercial perfume bottle photo. We talk lots about illustrations and commissions during the evening and I love the studio time. Photo left, my painting on the right.