New York City Ballet Working Rehearsals
Last week my husband and I went to the NYCB working rehearsals 3 days in a row. These are offered as part of becoming a FRIEND of the ballet company and they are amazing! On Wednesday we listened to Andrew Litton conduct all of the music for 3 upcoming ballets. On Thursday and Friday we watched two 2-hour working rehearsal sessions of ballets being performed this week. I try to do a sketch each time I'm there, but the lights are usually too dim.
This is a sketch of an assistant conductor following along in the score (left) with just a glimpse of Andrew Litton conducting. The full orchestra was in the pit, but I could see the very top of the harp.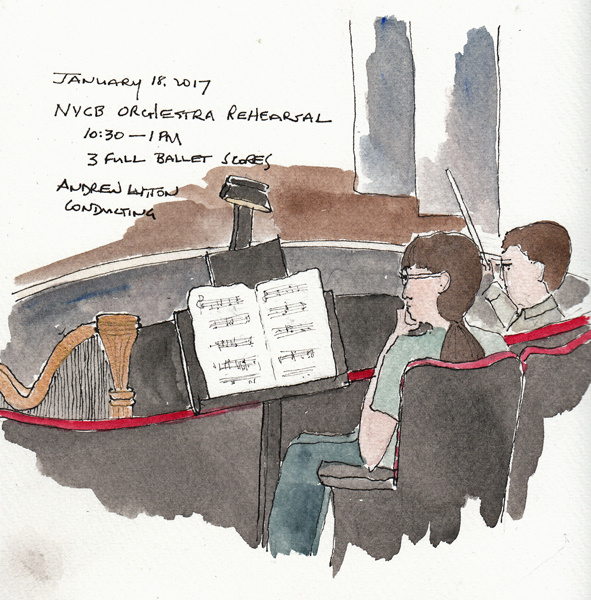 The Prodigal Son Ballet - several dancers were in costume, on the stage, before the lights went down.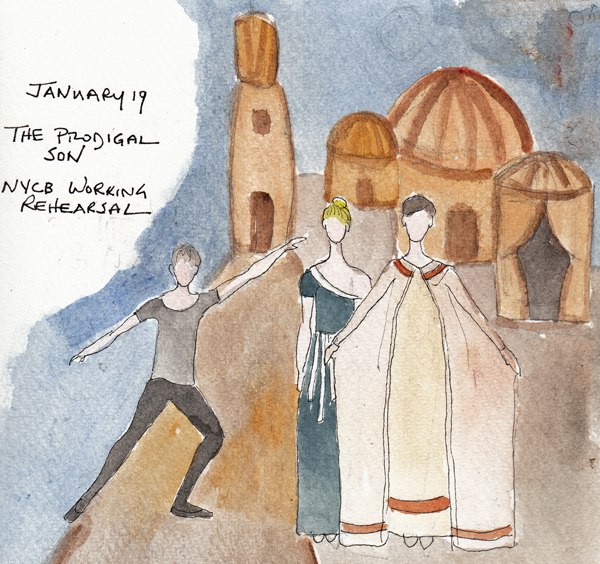 A full dress rehearsal with orchestra of "Scenes de Ballet" - a wonderful ballet danced completely by students from the School of American Ballet. The sets were gorgeous and the students amazing. The choreography depicts a Russian ballet studio, with a very long barre diagonally in the middle of the stage. Dancers are in pairs, with one on the left of the barre, and then another dancer on the right side pretending to be the mirror image of her. The precision was extraordinary. The auditorium was completely black when the curtain went up, so I memorized one dance position, and then sketched the dancers at home, reversing one to get the mirror image. It was really hard.