Barcelona Travel Sketchbook - 1
We returned from Barcelona this week, and I wanted to start posting some of my travel sketchbook pages. Today I will post recurring features that I make part of each of my travel sketchbooks. Then as I finally paint the rest of my drawings, I will add them to my blog. I have photos taken of the site for each ink drawing, so I can remember the colors. My husband is very patient, so I always have 15-20 minutes to do a drawing on site, but I don't want him to wait while I paint. Sometimes I paint during lunch, or a late afternoon glass of wine. But this time I returned with more unfinished pages than usual. This plan will help me finish a travel sketchbook that I really enjoyed making, otherwise I may get busy and forget about my overall plan.
I always draw Mickey in his bread dough plane (from Maurice Sendak) on the title page for overseas trips, and I add every piece of information I can think of to make sure a lost sketchbook will be returned to me.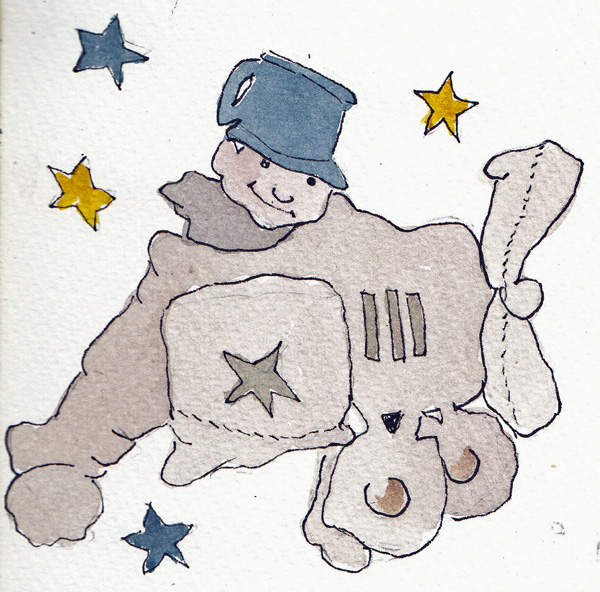 Before we leave I create a calendar on several pages, so I can fill in our activities at the end of each day. This is an example from 3 days.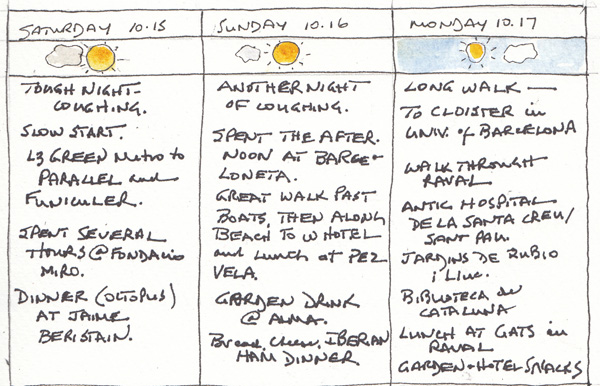 I also make a series of 2 X 2 squares that I can fill in daily, adding some image that will allow me to remember a highlight of the day. Here are the squares I painted during the entire trip.
A View from our hotel window. I am far behind in Liz Steel's Buildings online class, but wanted a quick sketch of the top of the back of this beautiful apartment building in Eixample, Barcelona.