Art Wednesday - October 5th
This past Wednesday I attended a Collage class at MoMA. Before I went I gathered some recent mail, and two drawings I did in ballpoint pen on index cards. I cut out or ripped headlines and photos from my mail, looking for a theme. I had items from the newspaper and a magazine, and even a return address on a manila envelope from Hillary Clinton. The bowed head I sketched represents to me one of the muslims that Trump wants to keep out of our country. The news headline "Art of Frustration No Matter the Form" made me think of the stress of this election, where a totally incompetent, sociopathic candidate like Trump could be nominated by a major party. I interpreted this quote literally as ART born from frustration and included images of a dancer, singers, my drawing, Dubuffet's painting, and a photograph. "Be Creative, Get Active," and stay sane, is my mantra until Nov 8th.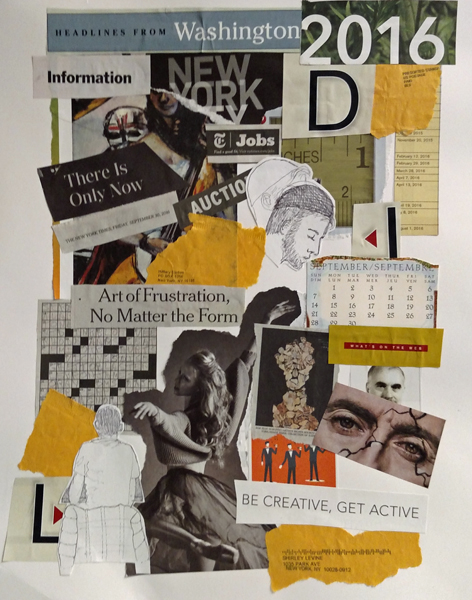 I went to Figure Al Fresco in Battery Park City in the afternoon, but only stayed for part of the session. Here is a quick sketch of Regina between poses and a ten minute pose drawn with a soluble graphite pencil and shaded with a waterbrush.