Sketchbook Skool 6 Homework
Vin Ganapathy, a teacher in Sketchbook Skool 6, demonstrated portrait drawing and then assigned us homework using his technique. He likes to do a quick drawing live, then take lots of photos, and use them to finish the drawing later. He did two people sitting on a couch, but my first opportunity to draw and take photos was when I was sitting next to a grandchild - in profile.
I find it very difficult to capture a likeness of family members, and these 3 are a little better than usual. Henry was sitting next to me at a concert at the Metropolitan Museum of Art. Sydney was presenting a project to us at school. And Zachary was sitting next to me at a Young People's concert at Lincoln Center.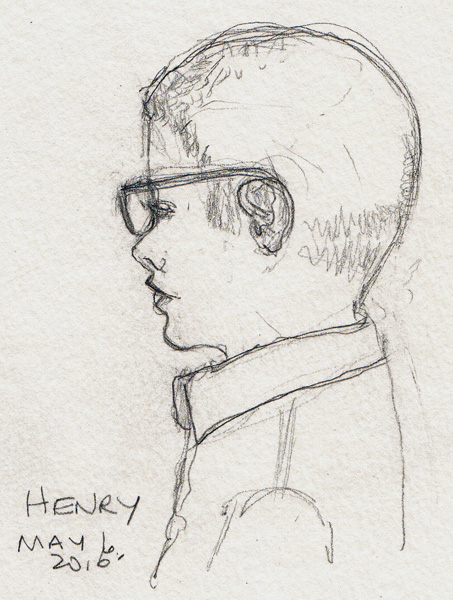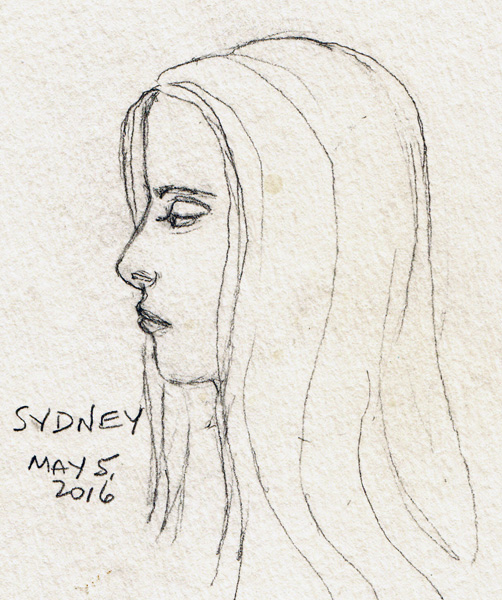 The drawings were done with pencil on watercolor postcards that I carried with me. The technique was helpful, and the photos helped me better draw nose shapes and lips.
The very next week in Sketchbook Skool, Dutch artist Nelleke Verhoef imtroduced "Faces" from photo inspirations. She maintains envelopes containing eyes, noses, mouths, and hair clipped from magazines - and mixes and matches them to inspire random face drawings. One of her special additions is red cheeks - which is also the name of her illustration studio.
I got a Vogue magazine from my daughter, clipped apart face components, and made my own reference envelopes for the project. I quickly sketched this face in ink and painted it with watercolor, and may use this technique for my imaginary drawing project.