Flowers and Figure Drawing
Wednesday is Art Day in Battery Park City from now through October. This week I went to the morning session in Wagner Park, searching for newly bloomed flowers and painted 3 flowers, all growing from the same stem. I chose them because I could sit in the shade on the artist stools the Conservancy provides! But it presented me with the challenge of drawing white flowers on white paper - and kept me happily engaged for an hour.
In the afternoon I arrived in South Cove (2 blocks away) just as one of the big ships was sailing around the tip of Manhattan and heading north up the Hudson River for fleet week. There were sailors lined up all around the ship looking at the beautiful views of Lower Manhattan.
I love Claudia, who was our model for Figure Al Fresco. I've sketched her before and have good memories of those sessions. Here is my work for our two hour session - photographed instead of scanned because of the paper size. I had a mat at home that I put around my longer pose drawings just for fun!
From 10 One Minute Poses: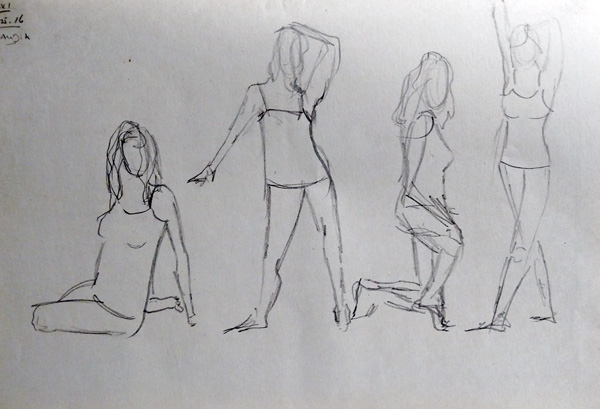 Our 4 Five Minute Poses: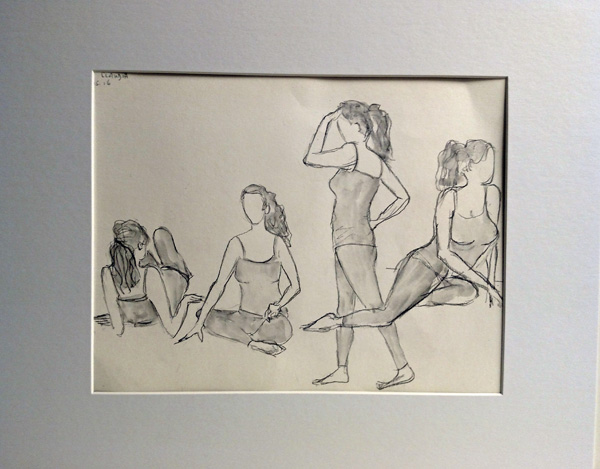 My 4 Ten Minute Poses - I only sketched for 10 minutes even with the 20 minute pose: