"Our Blood" Infographic for Sketchbook Skool Homework
The 3rd teacher for Sketchbook Skool - Expressing - is Sabine Wiseman, a Dutch Illustrator. She described infographic illustration and demonstrated the basic ideas. Our first homework was to make an infographic on a topic of our choice. I chose to write mine about Human Blood with very basic information and illustrations.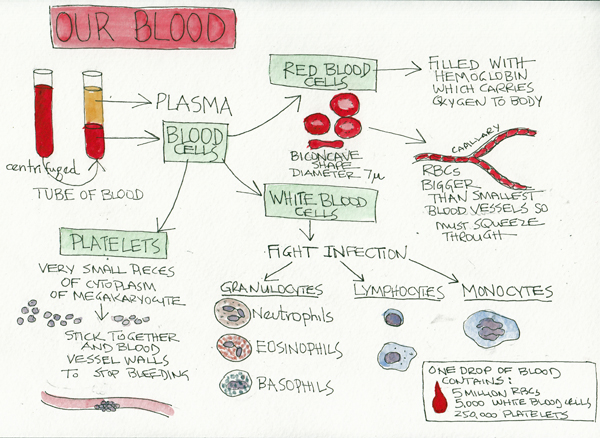 The basic information is as follows, since I'm never sure if text on drawings is readable.
1. When you centrifuge a tube of human blood it is separated into plasma and blood cells.
2. There are 3 types of blood cells.
3. Red Blood Cells (RBC) are full of hemoglobin which give blood its red color. Hemoglobin carries oxygen to all the tissues of our body. They are shaped like biconcave discs so they can squeeze through our capillaries which are smaller than the RBC diameter (7 microns).
4. White Blood Cells (WBC): There are 3 major types of WBC - Granulocytes, Lymphocytes, and Monocytes. They are important in inflammation and infection. Granulocytes are further subdivided, based on their granules, into neutrophils (most numerous), eosinophils (few), and basophils (rare).
5. Platelets: Very small "cells" that are pieces of the cytoplasm of their precursor cell (megakaryocyte). They stick to the insides of damaged blood vessels and to each other to form plugs which stop bleeding.
6. In one drop of blood there are 5 million RBCs, 5,000 WBCs, and 250,000 platelets (approximately).