Blotted Line Image Transfer
I was intrigued by Andy Warhol's use of this technique when seeing it in the 2015 Warhol exhibit at MoMA, and attended one of their art sessions to learn the technique for making these transfers. Here is information and photos of Warhol's prints, and my transfers from the museum.
http://www.paperandthreads.com/2015/07/warhol_blotted_line_prints.php
Last week, on Sketchbook Skool Semester 5, Penny Dullaghan, an artist illustrator, taught her technique for making blotted line image transfers as one of 4 print-making techniques, and she used a brush and India ink, instad of a fountain pen and water-soluble ink like I tried at MoMA.
This was the image I created at MoMA using a disposable fountain pen - and tracing paper (left) and smooth Bristol paper (right) that were taped together for us in a packet. The ink was soluble so I didn't add watercolor.
Here are 3 images I transferred using a brush and India ink per Penny Dullaghan's method in Sketchbook Skool 5. I used Canson Vellum tracing paper, Fabriano Atistica 140 lb watercolor paper, a #1 round brush, and India ink. I like the expressive lines best when transferring the leaves. The faces are more messy and would need more practice and probably a smaller brush.
Brush and ink - Leaves: I like the random blobs of ink.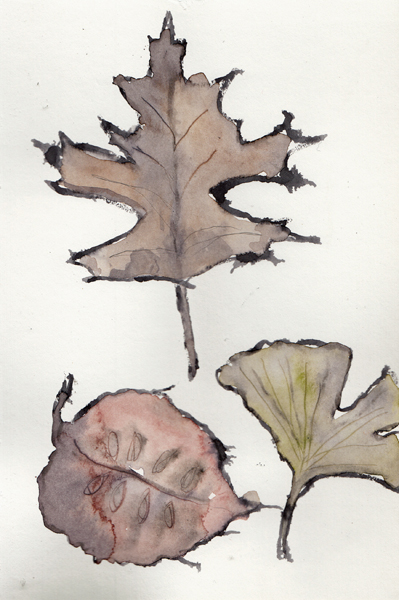 Axel:
Face: The dots paper to the left side of the face are me experimenting with transferring dots, instead of 1/4" segments of ink with the brush. I liked Warhol's dots (as seen in my blog link above) and think there are times when I might want to use them.