Warhol Blotted Line Prints
The Museum of Modern Art (MoMA) has a current exhibit of Warhol prints, including all 32 varieties of Campbell Soup Cans. I don't care for his pop art product illustrations, or his many screen prints from celebrity photos, but I was really intrigued with his figure drawings, portraits, and a wall of shoes using his "blotted line technique." It wasn't well described in the exhibit, so this week Benedicte and I went to one of the drop-in MoMA Art Classes associated with the Warhol exhibit, and made "blotted line drawings."
Here is Andy Warhol with the type of prints that I loved - this image is from ContemporaryCalgary.com in an art education article.
This is the link to the MoMA exhibit and several of his blotted drawings.
http://www.moma.org/visit/calendar/exhibitions/1572
At MoMA there is one full wall of the Warhol shoe illustration ads for I. Miller. His weekly shoe illustrations in the New York Times revitalized I. Miller converting it from a dowdy shoe company to the shoe brand for debutantes. This photo is from images on the internet, selected because it shows the blotted lines very well, and the power of this technique to allow him to create multiple prints from the same drawing.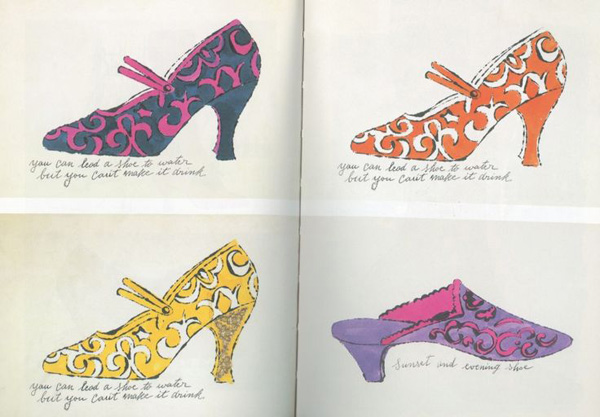 For this technique you need non-absorbable tracing paper, a sheet of absorbable paper, and a pen that writes "juicy" ink lines. The tracing paper can be used to trace the desired image, or make an original drawing. Then it is hinged along the edge of the absorbable paper, making a little booklet. The back side of the drawing on the tracing paper is then outlined with ink, making very short segments of lines, and immediately flipping it over to print on the paper. This process is repeated until the drawing is completed. In the video at the end of the link below, you see how an image can be repeated over and over using the same tracing paper with new absorbable paper.
At MoMA they supplied us with a sheet of deli paper, taped to card stock, and an inexpensive disposable fountain pen. We also had Warhol-type props, including a Coke bottle, martini glass with cherry, Campbell soup cans, and a woman's dress shoe. Here are two of my prints.
The Props for my first print:
A photo of a Jim Dine sculpture from my phone - taken an hour before at Christie's Post-War and Contemporary Auction preview:
By the time I reached my 5th print, I decided to draw Axel sipping champagne. When I came home I added yellow watercolor to the champagne and discovered that we were using soluble ink pens at MoMA. But I wanted to show Axel because I wrote "yum" on the top side of the tracing paper, flipped it over and traced the line with the pen in short segments, and then printed the word on the paper - a 3 step method for having letters appear correctly!
Here is an excellent tutorial followed by a 6 minute video demonstrating the technique and two shoe prints made from the same image and then painted, one with gold leaf applied at the end.
http://www.warhol.org/education/resourceslessons/Blotted-Line/