New York City Drawings - September 16, 2015
On my walk along Battery Park last Wednesday, I stopped for what Marc Taro Holmes calls "cing a sept" - a fast travel sketch using 5-7 continuous lines. I didn't count lines, but I wanted to be on time for the Art Cart, so it was fast. This is the new Freedom Tower, looking north from the Battery. Marc teaches that these little sketches capture the moment and something you see very quickly when traveling. You can go back and add the darks later in the day or during the trip if there is limited time.
I used a Pigma micron pen for the drawing. When I arrived at Battery Park City and the art cart, I sat for a few minutes and "added the darks" with a Pigma micron black brush pen. This sketch was on drawing paper, but I want to be able to do drawings like this in my hand-bound sketchbooks that have Fabriano Artistico 140 lb soft press paper. I tried many pens and inks, and even water resistant inks are somewhat watersoluble on this paper. I've been experimenting and the Pigma Micron Ink or the Pitt brush pens are best for me.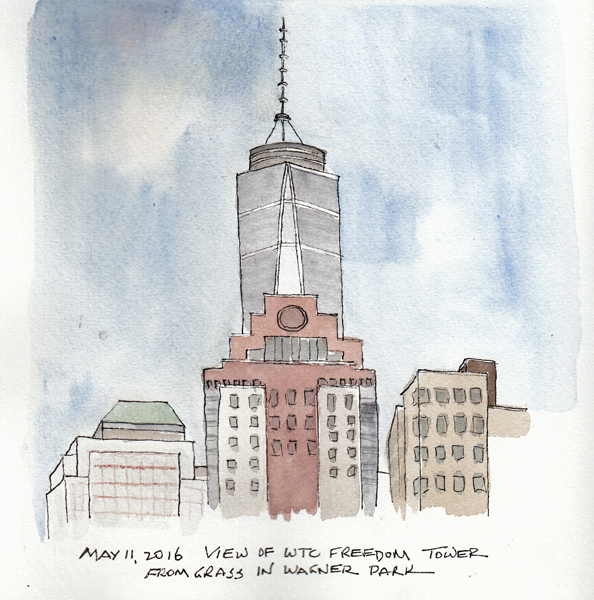 During the free morning art session in Battery Park City, I took an hour to paint the façade of Pier A, my favorite building in the Park. This drawing I did using Liz Steel's technique of getting the main architectural shape down with a watercolor pencil and then superimposing the full drawing in pen and painting it with watercolor.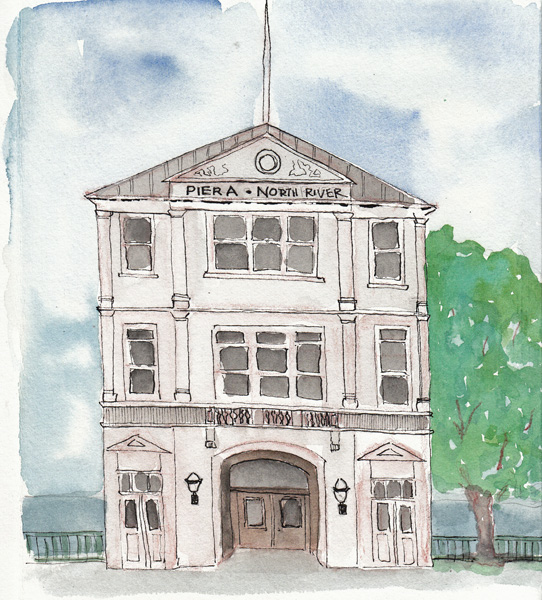 I did the painting in my NYC accordion book next to the side view of the building that was done several weeks ago.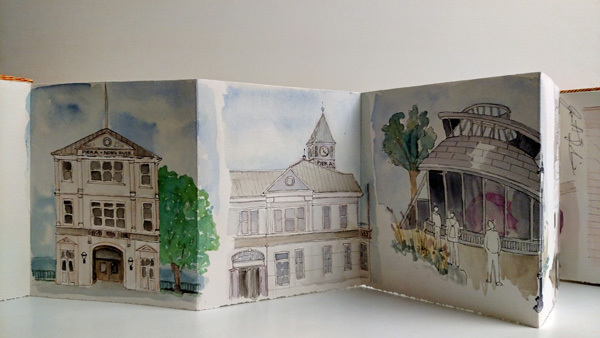 On a cold day in May, I sat out there in the wind drawing the side view with Eunice, my friend from Australia. This pier building was renovated in the last few years and is now a restaurant and venue space. It projects into NY Harbor much more than I've drawn, but from my drawing area in adjacent Wagner Park it is difficult to see it completely.