FIT Fall Semester Watercolor Class
In 2003 I began to think about retirement activities and bought a student grade set of watercolors, and then played with paints, brushes, and paper over the next 2 years. I read several watercolor books including Cathy (Kate) Johnson's beginning watercolor painting book. It was great fun learning on my own and when I partially retired in 2005 I started to draw and paint in a sketchbook almost daily, graduating to Winsor-Newton artist grade tube watercolor paints and better paper. I've now been retired 6 years and still play with watercolors trying to learn as much as I can by "doing."
This semester there were still openings for Seniors in the one watercolor section that exists each semester at Fashion Institute of Technology (FIT) and I just completed my second class ever. We are using Strathmore 400 series 140 lb watercolor paper (18 X 24") and I'm still using my Winsor-Newton paints.
In the first class, we painted a still life with mixtures of only 2 paints: burnt sienna and ultramarine blue, using quarter sheets and a 3/4" wide flat brush.
Class 1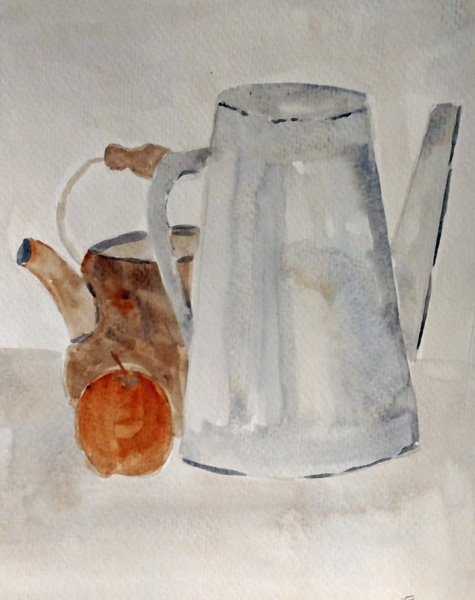 For homework we set up our own still life and did two 11 X 14" paintings, still using the same paper, brush, and colors.
Homework 1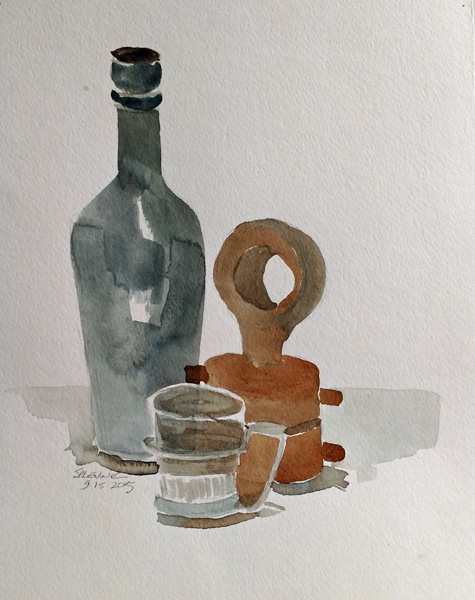 Homework 2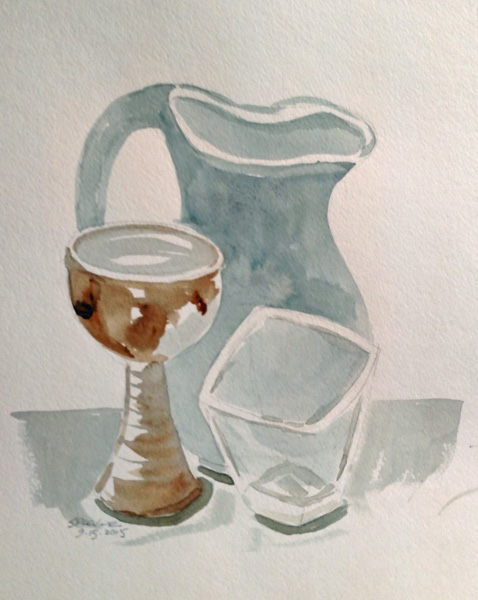 Last night was class 2 and we worked on 1/2 sheets using the 3/4" flat brush and a triad of colors, to explore the virtues of Payne's Gray. We could choose our own yellow and red, and I chose New Gamboge and Scarlet Lake as my other two colors.
Class 2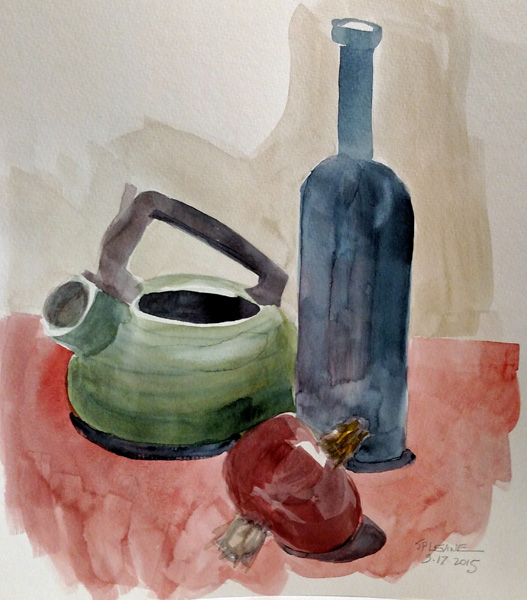 This is a very well structured class, and our exercises are designed to have us paint very loosely. It is great fun! I also like working with some restriction on color, even though I always use a very limited palette of primary colors - because I love mixing colors!