"Picasso Sculpture" Exhibit at the Museum of Modern Art
Picasso Sculpture, the new HUGE exhibit at the Museum of Modern Art, opened to the public yesterday. I went to a member preview on Friday and was amazed at the crowds at 9:30 in the morning. I hadn't read anything about the exhibit, and was totally surprised that the entire 4th Floor Permanent Exhibit space was cleared and then 11 galleries - 140-150 sculptures by Picasso - were installed.
We learn that Picasso was never trained in sculpture, but he tried every form, and the galleries are individually devoted to one form or another. I almost couldn't leave the opening gallery in which he worked in sheet metal. By the end of the exhibit I knew I had to go back there for one drawing - Head of a Woman.
This is the Museum link to the exhibit:
http://www.moma.org/visit/calendar/exhibitions/1559
And this is the NY Times "over the top" review - with many photos:
http://www.nytimes.com/2015/09/11/arts/design/review-picasso-sculpture-moma-museum-of-modern-art.html?_r=0
This is the first sculpture I just had to draw - The Crane. The head is a spigot, the neck and tail appear to be a shovel - and all of it is painted black with white accents. When I draw a piece of art, I feel it seeping into my brain and body - and never forget the joy I experienced when I first saw it. Both drawings were done in front of the sculpture, then painted at home from my photos.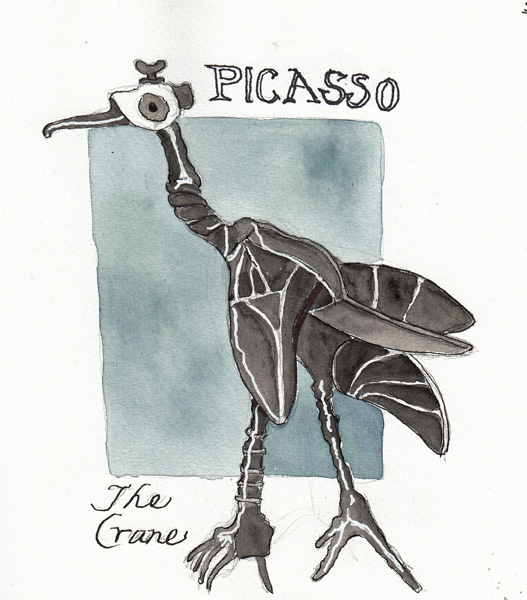 After drawing the Crane, I had to return to Gallery 1 to draw the sheet metal sculpture of a Woman - that I loved from minute one of my visit. This is a single piece of metal that is cut, bent back on itself, and then painted.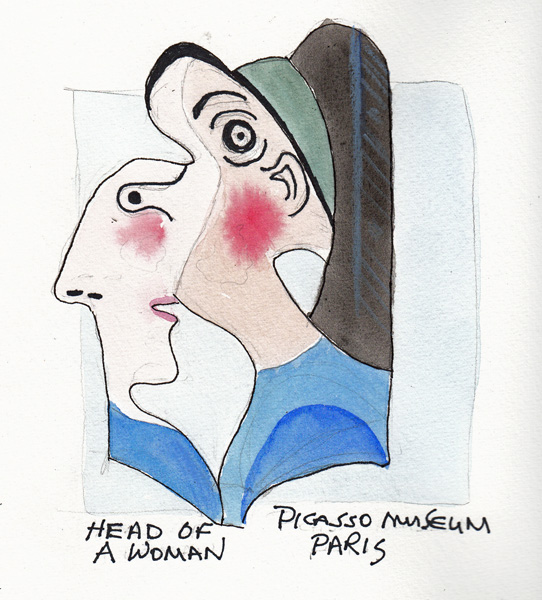 This is an exhibit that I will return to again, maybe many times before it closes in February. There were pieces in each gallery that I wanted to draw, and probably will. If you are in New York City this Fall, it is a once in a lifetime collection of work by Picasso.