July Was Surface Design Month
I spent the month of July playing with fabric and dyes. I use the fabric as bookcloth for my watercolor sketchbooks and a variety of other projects. It takes me awhile to get out all of the dyes, tools, containers, and PFD fabric (prepared for dying), so I love it when I can find blocks of time to concentrate on fabric dying. Then I can leave everything out in my apartment, play creatively, and dye lots of fabric in a short time. I used procion MX dyes, low immersion dying, fabric folding, clamping, monoprinting, corn dextrin and soy wax resists.
This is a photo of my total output for the month - July 2 - 31, working 1-3 hours per day for 19 days during the month. I made over 20 tree stamped pieces of fabric and a total of 4 thick dye drawings of Axel and Alice. The two best ones were on this blog already (July 31st). The small piles of fabric in the middle and left were samples on which I was working out designs.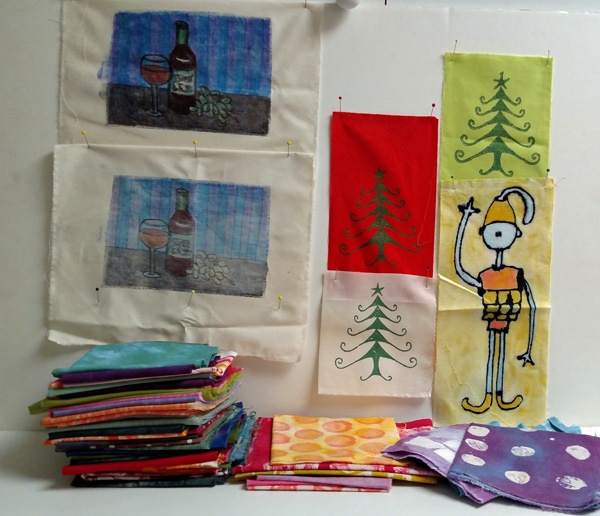 On the left above, and spread out below, are 32 pieces of fabric (12 X 22") that can be used for bookcloth, but I'm sure that I will use it for other sewing as the need arises.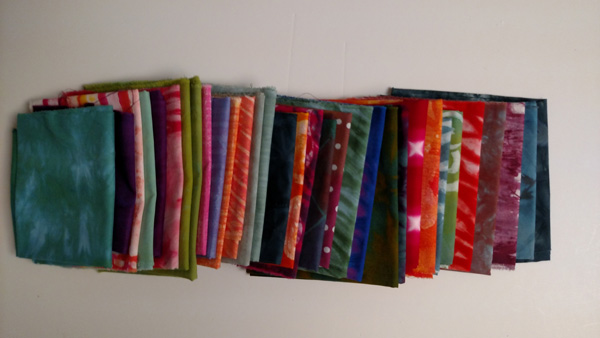 I wanted to try a technique I learned from Susie Monday at a Craftsy demonstration at Quilt Festival in 2013. I did a color drawing on a silk screen with Neocolor II crayons, and then used Golden Silkscreen Medium and a squeegee to transfer the print to fabric. This is the first print - darker than I expected - but I probably left the medium on a little too long before pulling the print.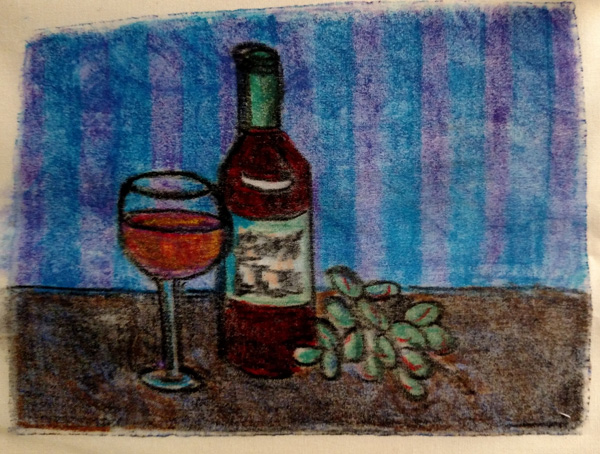 This is the second print - with a Sakura Pigma Micron pen outline to restore some of the shape lines. The third print was too pale. I could have added more crayon, but didn't.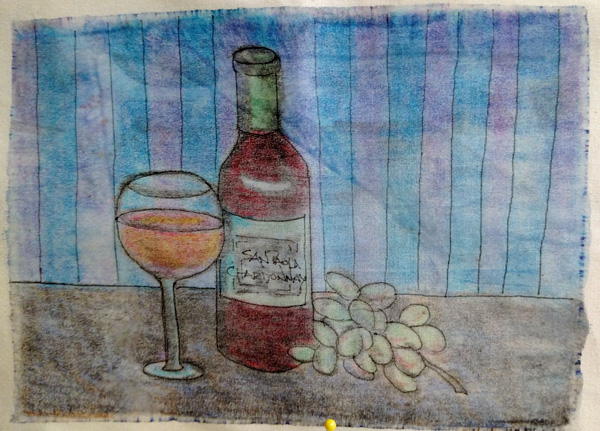 My final project: Figuring out how to use the tree wood stamp (which I'll probably use to make some Christmas ornaments), and my first dye painting of Axel. The thick dye was not quite think enough, the drawing line spread, and I continued to use this piece as a test sample while painting another drawing of Axel and Alice.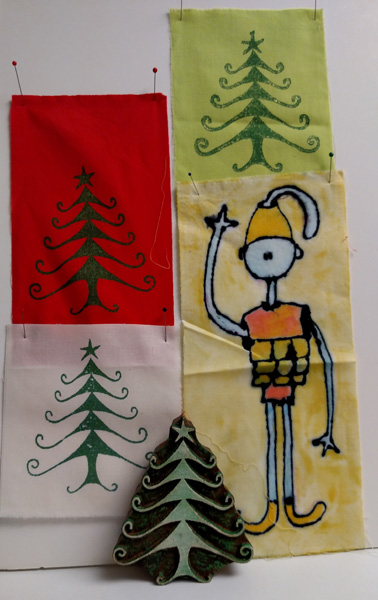 I'm thrilled that I set aside many blocks of time for one month to play creatively. Some days I dyed 4-6 pieces of fabric, and the next day just had to wash out the excess dye. Then I thought about other experiments as I went around the City, ready to begin again the next day. I have a totally different mind set when I have unlimited supplies and a spirit of experimentation and play. I made a list of techniques that I know and then added some new things to try - realizing they could be awful and need further manipulation.