Urban Sketchers and the Seaglass Carousel
Today is the Grand Opening of the new Seaglass Carousel in Battery Park. It took 10 years to reach completion and is a labor of love for the Battery Conservancy, a group founded by Warrie Price in 1994. The WXY architectural firm's Mark Yoes and his team members conceived of the nautilus shape to honor the original New York Aquarium that once was located in Castle Clinton in Battery Park.
Yesterday our weekday NYC-Urban Sketchers' group met there to sketch the exterior one day before the official opening. Upon arrival we learned that it was Press Day and the "keeper of the press list" wouldn't let us any closer. You can see the table set up at the entrance. I sat on a bench and started sketching, soon joined by 2 others from our group. Several others were disappointed and decided to go sketch along the water where it was cooler.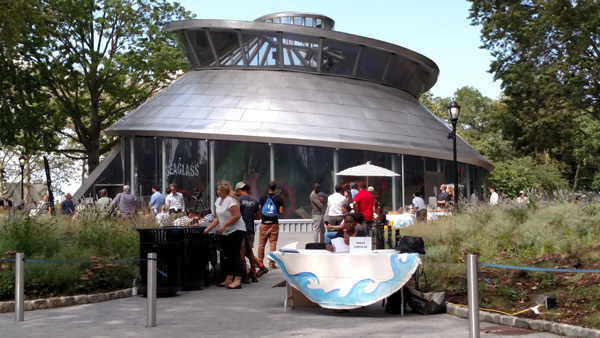 Much later, after my sketchbook page was painted, one of our members approached the Battery Conservancy Chief of Operations, and was granted permission for the 3 of us to enter based on our almost completed sketches. The official program for the Press was over and press attendees were just riding the carousel, so I was even able to see the Nautilus spiral ceiling from the inside.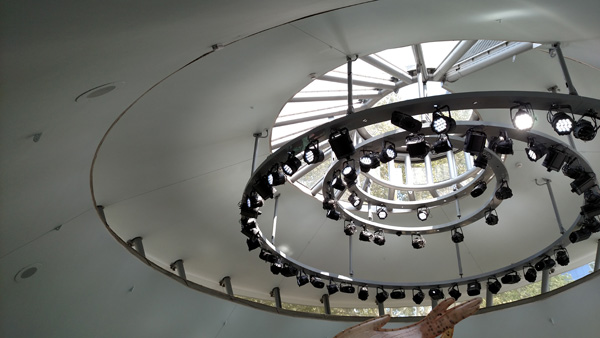 Warrie Price and NYC-USK: Much later, the Chief of Operations, Steve Lagerstrom, introduced us to Warrie Price. From Left to Right - Raylie, Me, Maureen from Urban Sketchers, and Warrie Price the President and Founder of the Battery Conservancy. The man behind Raylie is Mark Yoes, architect.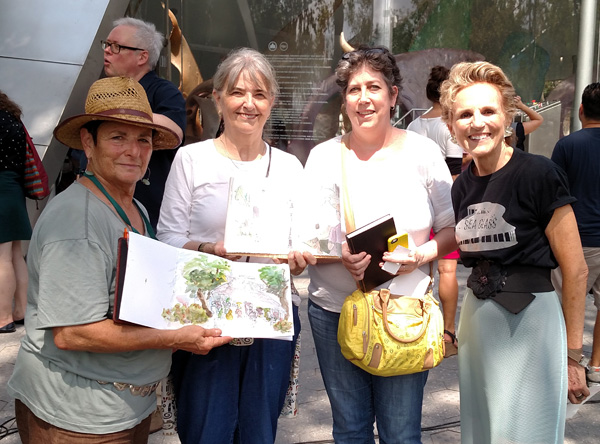 Here is my sketchbook page. I wasn't sure how long I could sit on the bench in the sun, so the sketch was done quickly and the measurements aren't completely accurate. Just before we were given permission to enter, the carousel was started and I saw that great big pink fish pass inside the windows.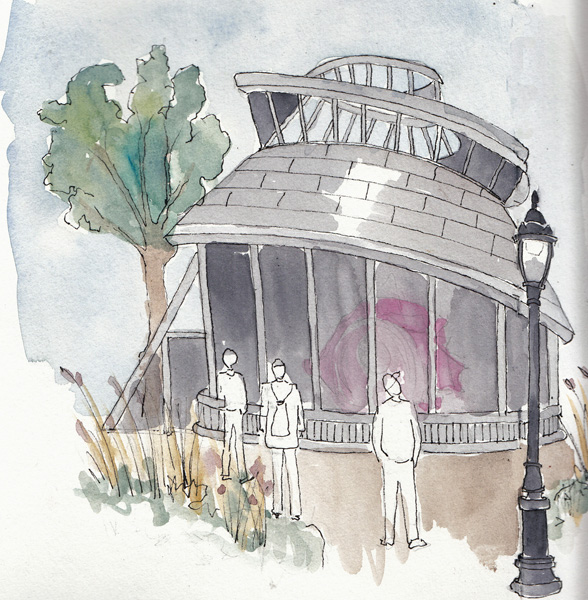 When I went inside, I actually met Mark Yoes, completely by chance, as we discussed my open wet paint palette and painting. I told him I would send him a link to my blog post and hope that he enjoys it! Here are 4 of the many photos I took as the fish were whirling past me,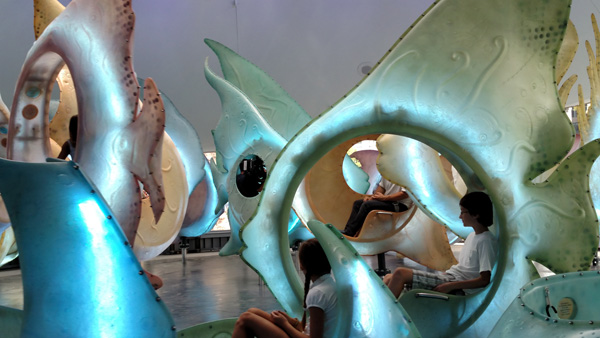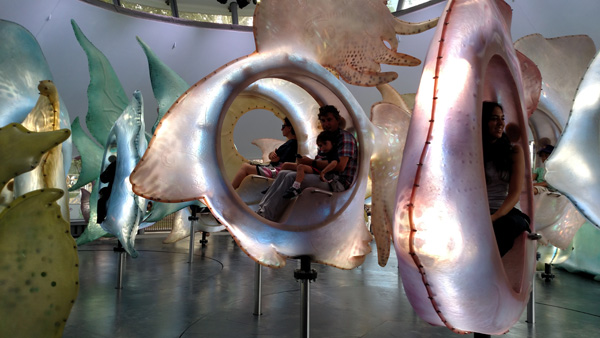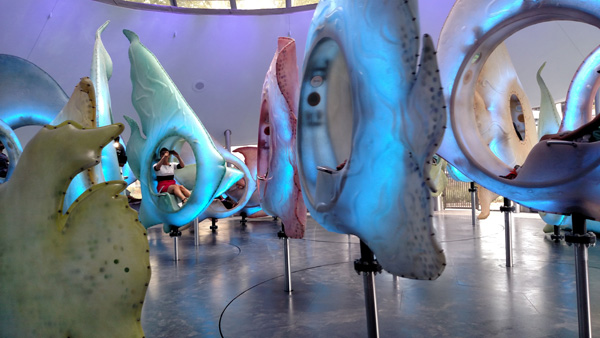 There are many articles already printed, and even a short 1 minute video showing the 30 fish as they spin around and move up and down. I'm including 2 links, one to the NY Times video and the other to the NY Times article plus video. Seaglass will now become a favorite NYC destination for NYC families and tourists alike.
Video: NY Times http://www.nytimes.com/video/arts/design/100000003846021/take-a-ride-on-a-seaglass-carousel.html
Video Plus Recent Article Describing the Project:
http://www.nytimes.com/2015/08/14/arts/design/new-yorks-new-carousel-puts-you-in-a-whirling-school-of-mechanized-fish.html?_r=0