Jacob Lawrence - One Way Ticket at MoMA
One Way Ticket, Jacob Lawrence's Migration series, opened at MoMA this weekend. At age 23 he painted these 60 panels to tell the story of the migration of blacks from the rural south to the urban north between WWI and WWII. He did extensive research at the Schomberg Center in Harlem and painted a series that tells an amazing story through paintings and captions. MoMA owns 30 "even-numbered" panels and the Phillips Collection in DC owns 30 "odd-numbered" ones. Periodically they reunite them and I first saw them many years ago in DC. I wasn't drawing or painting at that time, and only now do I realize how masterful he was at composition.
Lawrence painted in tempera, and after drawing all 60 panels, he painted one color across all 60, and then added the second color, etc.
Here is a 2 minute video from BBC World News: http://www.bbc.com/news/magazine-32141921
The MoMA website has all 60 panels and a wonderful description of the exhibit.
http://www.moma.org/visit/calendar/exhibitions/1549#related_events
I had trouble choosing just one panel to copy, but kept returning to panels with 3 images - and finally chose this one.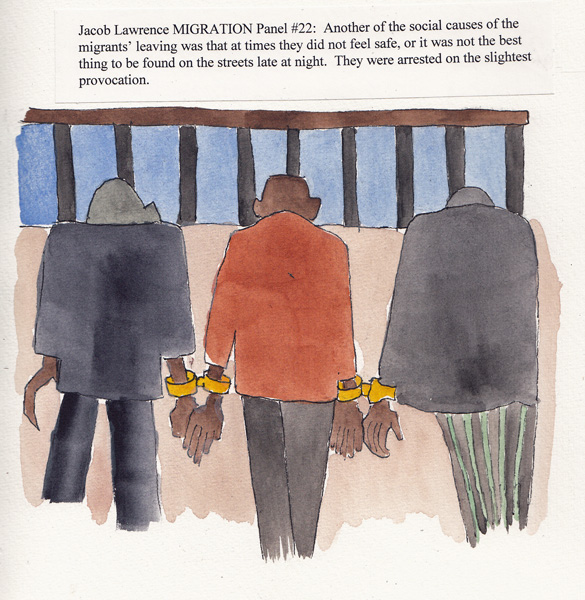 The exhibit also includes art, music, and photography from his contemporaries, including Marion Anderson's Lincoln Memorial performance. I loved one of Dorothea Lange's photographs of an ex-slave and sketched her as well.