Playdate with Zach
Zach is in Pre-K and had his Winter Break several weeks ago. We scheduled a playdate and when I asked him where he wanted to go, he said the Museum so we could sketch. As soon as we got off the phone he packed up his sketchbook and pencils so he wouldn't forget anything.
Here is my picture of him sketching in the American Wing at the Metropolitan Museum of Art. There is a Bear Sculpture of 3 Bears, but he was ready to move on after sketching the bear in the middle.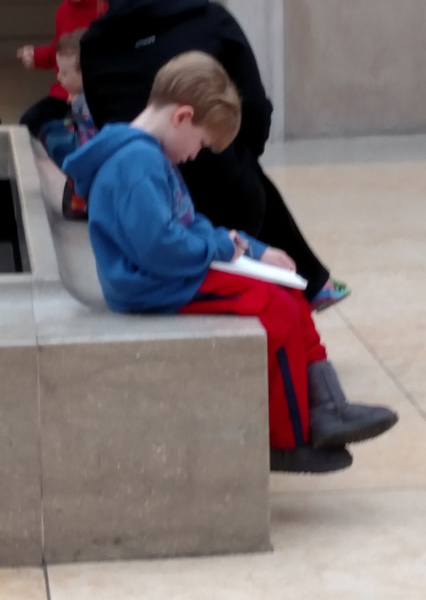 And here is his sketch of the Bear! He was very pleased with it.
We eventually did two more sketches, learned lots about mummies in the Egyptian Galleries and went to visit William the Blue Hippopotamus, the Met's several thousand year old mascot that is also in the Egyptian Gallery.
Several of my other grandchildren like to draw and paint and I'm hoping that we can keep this interest alive.