Two-Point Perspective Lesson
We learned a few simple rules about 2-point perspective in our Drawing I class last week. As I've said before, I never had drawing lessons so I used to wing it! Now at least I can intellectually know the rules and maybe even follow them when I choose. You use 2-point perspective when you can see two sides, two planes of an object.
Drawing Boxes:
1. Establish your eyeline directly in front of your eyes and put the line on your paper.
2. Draw your vertical line for the corner of the box facing you.
3. Examine the two sides of the box to establish where your vanishing point (VP) will be for each side and mark them on your eyeline. I find it difficult to figure out how far away the VP should be from my vertical and finally just played with this to see the kinds of boxes I could draw.
4. Draw a line from the top and bottom of your first vertical line to your vanishing point - and then add another vertical between these lines to establish the size of each side of the box.
5. Finally, add lines from the VP to the tops of the two new verticals.
Here are examples of many boxes I drew in class.
We then learned how to draw a corner inside a box - for example the corner of a room.
1. Draw a horizontal line for your eyeline.
2. Draw the vertical line from ceiling to floor.
3. Then put two vanishing points on your eyeline.
4. But this time connect a line from the top and bottom of your vertical to the VP on the opposite side of the vertical. This was hard for me to "see" at first, but here is my drawing for the corner of a room. The green color is on the walls on both sides of the corner.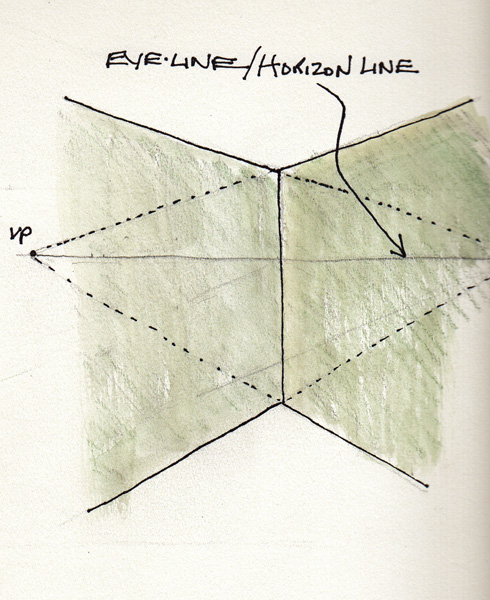 Putting it all together: In order to try to cement these concepts in my brain I drew a box on a rectangular table, looking toward the corner of our classroom. I had to concentrate a great deal to make sure I just wasn't winging it!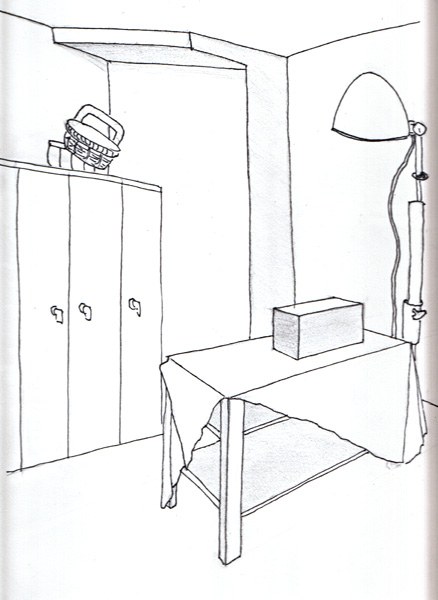 I look forward to warm days on the streets of Manhattan, playing with these new ideas. Looking down a street of skyscrapers in Manhattan should be great fun to draw. But not when it is 26 degrees at 3PM like today.