Studying Under the Masters - Max Beckmann
Max Beckmann was the 3rd Artist in this series, and his apprentice was a UK painter named Gillian Lee Smith. I knew very little about Beckmann, a German Expressionist Painter, but quickly learned that he was second only to Rembrandt in the number of self-portraits he painted. He was born in Leipzig Germany in 1884, and decided very early that he wanted to be an artist. He served in WWI as a medic but had an emotional breakdown and was medically discharged. By 1930 he was a very successful German artist, but he was featured in the Degenerate Art exhibit in 1937 and his career destroyed. He and his wife fled to Amsterdam for 10 years and then to the United States after WWII. He had an art school teaching position in St. Louis and then New York, and died in Central Park in 1950 on a walk between his apartment and the Metropolitan Museum of Art to see one of his paintings. I chose Self-Portrait in Olive and Brown to copy.
My copy is on the left, the original on the right. I used watercolor, white, and black gouache, for my painting on 9X12 Arches 140 lb cold press paper. It doesn't have the same range of values as Beckmann's and I don't feel as if I captured his stern, almost angry, expression,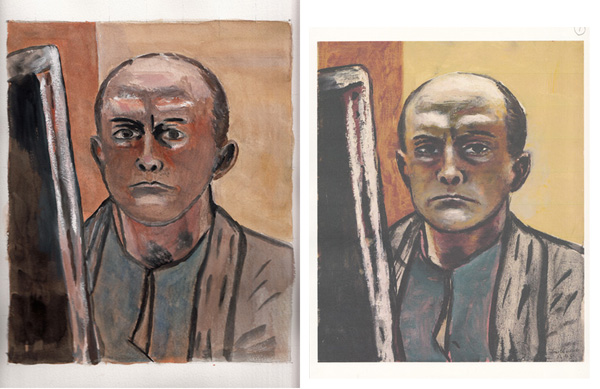 After doing a copy, each apprentice reflects on what they learned by copying the Master and then paints an original using some of those techniques. I selected a New Year's Eve photo I took this year to paint. Like Beckmann, it captures an individual and a face at one moment in time. And I hope that it conveys the emotion of a young girl, celebrating the New Year, but in her own world. I tried to use black to define the face and clothing like Beckmann did, but my lines, using a rigger brush are definitely not as bold.