Learning One-Point Perspective
This semester I am taking a Drawing I class at FIT. It is my very first ever drawing class (except for Figure Drawing at FIT in the Fall of 2013) and I've always just "winged it" when perspective was needed in a drawing. I usually start learning all new things on my own, from books, and then eventually find that a class provides me with some formal structure for my knowledge. But by then I've experimented and broken many rules so I'm more comfortable playing. I knew that we were learning one-point perspective in our class, and by chance saw a good free ebook online by artist Paul Heaston about Drawing with Perspective.
https://www.facebook.com/CraftsyDrawingClub
This is the link, but you need to scroll down to find Paul Heaston. The ebook can be downloaded as a 24 page PDF from Facebook Drawing Club. You have to join Craftsy to download it, but there is no charge for joining and Craftsy is having a sale on their art classes right now so you may see something else you like too.
I read pages 1-3 before class and last night sketched the hallway outside our classroom, sitting on the floor and standing, and from the right side, left side, and middle - 6 sketches in all. Here is my sketch sitting on the left side of the hall. I had trouble figuring out exactly where my "eyeline" was and it took all 6 sketches before I could figure out the errors I was making. The black dot is my "vanishing point" on my eyeline (horizon).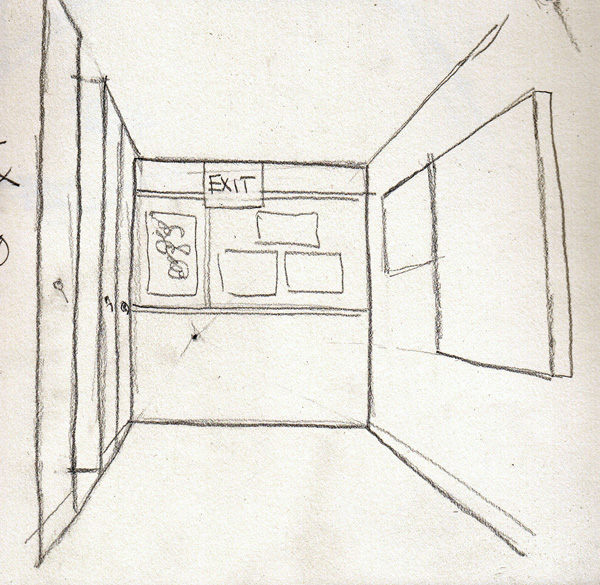 At home I decided to reproduce one of my drawings in my sketchbook and paint it - and found it very easy once I established my eyeline and vanishing point. Both were copied from my drawing last night while I was standing in the middle of the hall. I made the box shape for the end of the hall, then added my "eyeline" and vanishing point, and just redrew the objects along both sides of the hall, using lines from my vanishing point.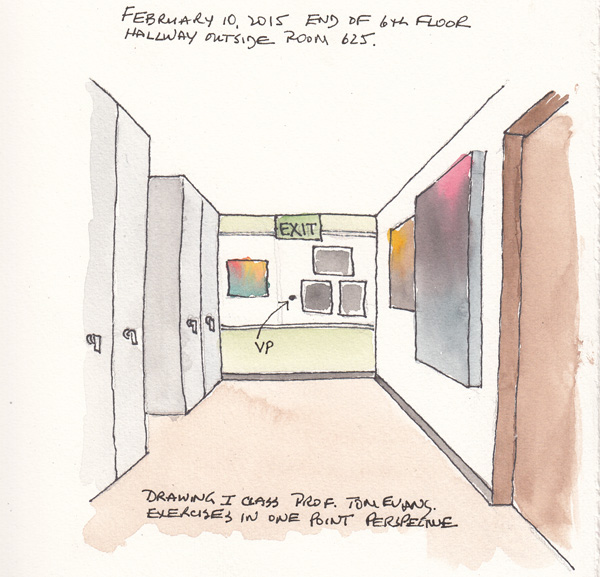 We have one more week on one point perspective and then move on to "two point perspective."