Tombow Markers and Ball Point Pens
These drawings were done with Tombow Markers and then watercolor. The first is the Wall Street Bull sculpture, which sits on Broadway in the Financial District. The sketch was done early one morning, and I was amazed how tourists paid so little attention to me that they literally stepped 12 inches in front of me to take photos of all of their fellow travelers! In NYC people rarely pause to look at you drawing, but this was a real lack of understanding of personal space!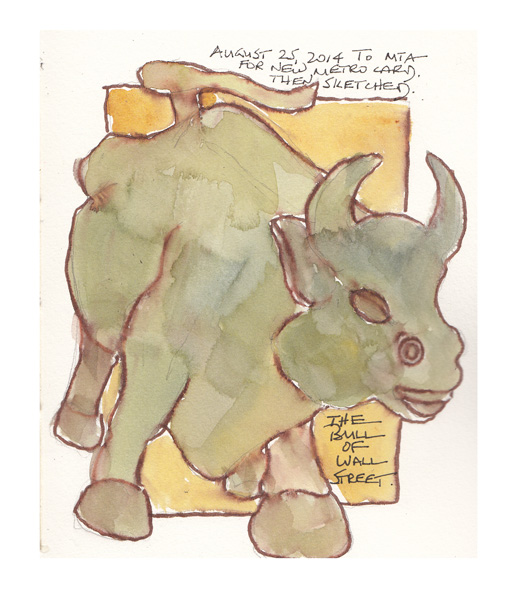 The second drawing was done at Steps - the place where I take ballet class - from a group photo. I outlined his pants and suspenders with black Tombow and then tried to tie it all together. This was clearly play - with mixed results!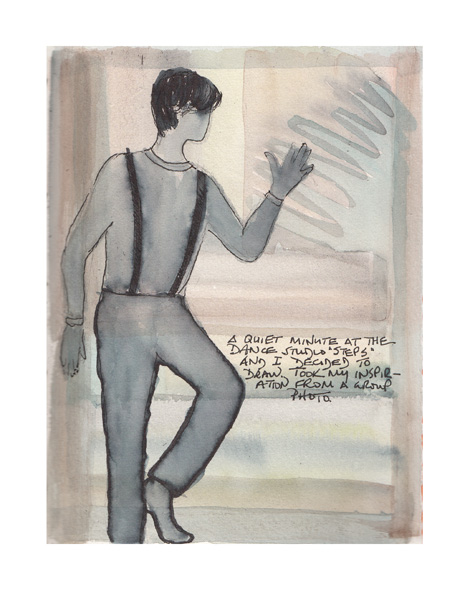 I walk a great deal in Manhattan and I find it difficult to always have my sketchbook with me. My new idea is to always have plain index cards and a ballpoint pen in the front pocket of my bag. For those of you familiar with Andrea Joseph's drawings, you can tell I was inspired by her Sketchbook Skool class. These are ballpoint pen drawings done on the subway, and then cut out and collaged onto a sketchbook page.