Wedding Weekend in Minneapolis
We spent this past weekend in Minneapolis, Minnesota for a very special wedding. And I actually made time to sketch in my daily watercolor sketchbook and finished 5 pages in 3 days. I haven't done an airport - waiting plane drawing in a very long time - but I had a few minutes to spare.
There was a beautiful flower arrangement in the area around the elevator, so I sat for a few minutes - long enough for a quick sketch and painting on our way out Saturday morning.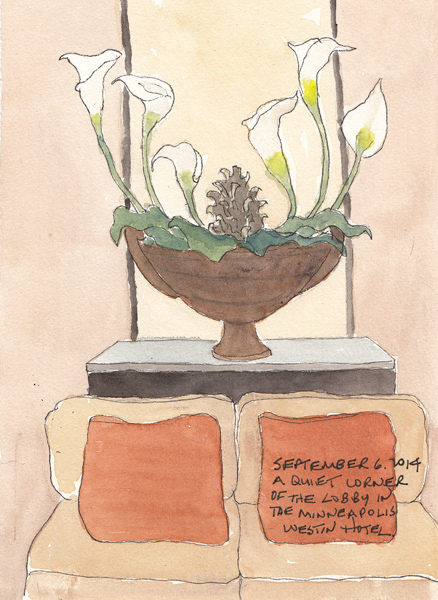 On Sunday we had a few hours before we had to leave for the airport and were with our wonderful friends Jeff and Sara. Sara and I sketch at the beach each summer, so we voted for a walk and some sketching while our husbands talked. We walked down Nicolette Mall and chose this huge fountain sculpture called Minnesota Birds. I only could fit the heron and grouse on my page. The Loon was on the other side, and only a few tail feathers were visible from our angle.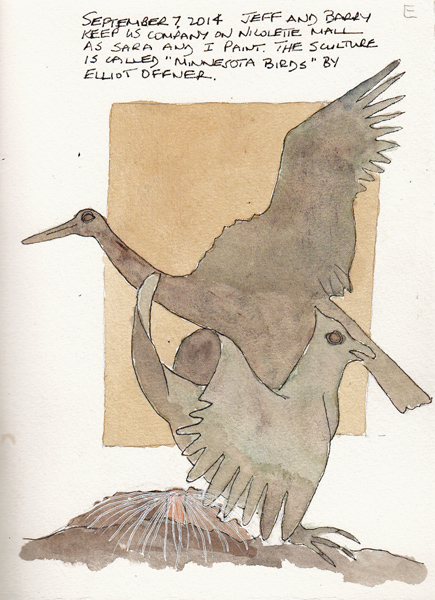 I gave Sara a choice of a few Tombow water-soluble markers and taught her the continuous line (or almost continuous line drawing) with watercolor washes that Brenda Swenson gave us for homework in Sketchbook Skool Semester 2. Here is my wonky lamp post with hanging baskets of flowers.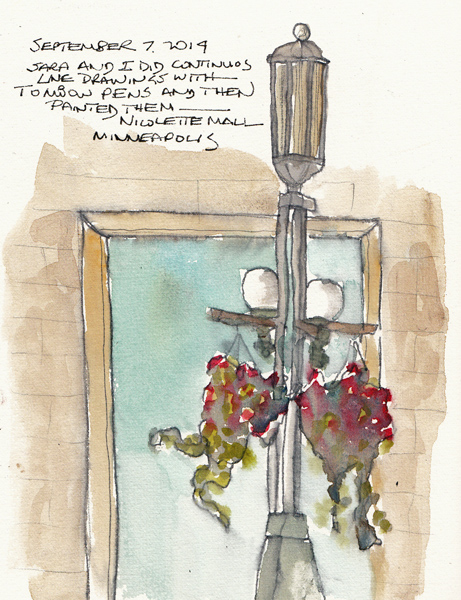 With an extra few minutes right before we had to leave, I sketched the man sitting in front of me on the wall around the sculpture.