Christie's Previews and Exhibits at the Met
Pat, Benedicte, Teri and I went to Christie's Auction Previews for Asia Week on Friday - primarily to see the Contemporary Asian Art. I am beginning to have several favorite artists and I'm always surprised by the contemporary sculpture. This time I of course gravitated toward the Elephants - the subject of my winter project several years ago.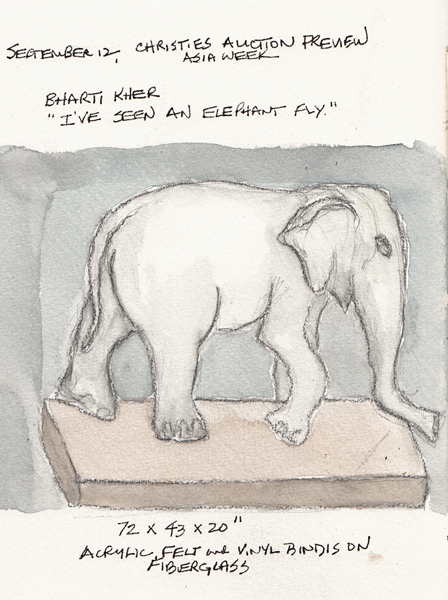 On Sunday I spent an hour at the Metropolitan Museum of Art sketching Tiepolo Caricatures before the exhibit ends. I discovered that I LOVE Tiepolo drawings - father or son - at several drawing exhibits at the Morgan Library and Museum. And the five caricatures by Tiepolo the elder did not disappoint. Here is a composite drawing of 3 of them. There were many more drawings by Tiepolo the younger - all of Punchinella in a life story arc from birth to burial. But I didn't attempt one of these detailed drawings.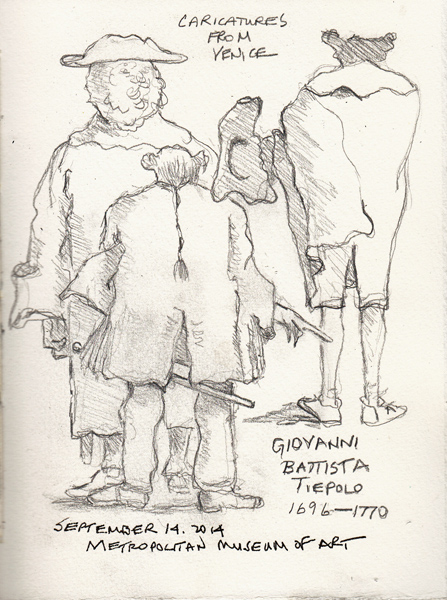 On my way out of the Museum I saw that the Rockefeller Primitive Art exhibit was almost closing and LOVED this seated male wooden sculpture from Mali - 18th-19th C. So I tried to capture his wonderful face.