A Hydrangea and a Row of Sea Gulls
We finally came back to New York City yesterday, after a wonderful weekend with our family at the beach. The beach was sunny and cool with wonderful breezes and NYC was humid and in the 90s.
The first class of Sketchbook Skool Semester 2 was downloaded on July 4th and our whole family was housebound most of the day by torrential rains. This is my homework assignment #2, which Danny Gregory calls "Fast and Slow." You choose a complex object to draw and quickly paint the main shapes. Then you study the object and slowly make a pen drawing - with all of the complexities - over the painted shapes.
I wanted to paint a hydrangea bloom because they were blooming all around the house, so I quickly painted the cup shape with blue, the leaf shapes with a medium green, and the hydrangea bloom wet-in-wet by first brushing the area with clear water and then dropping in alizarin crimson and ultramarine blue.
I was actually pleased with the painting of the big shapes, so when I slowly drew the cup, leaves, and hydrangea petals, I didn't deviate much at all from the painted shapes. I did however need to darken the leaves and add the dots in the center of each petal (Signo white pen). I then painted the background.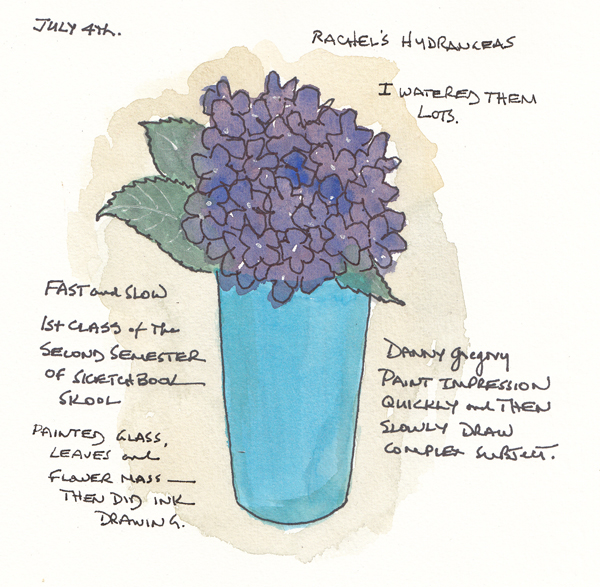 We always take 2 mile early morning walks on the beach and one morning the sea gulls continued to sit in a line as I slowly walked up with my camera. I've read that the brown speckled birds are the young Herring gulls - and there was a great assortment in this line-up. I loved painting all of the colorations
If anyone would like to paint these gulls from a hi-res photo, just leave me a request in the comments and I'll email you a copy. Your email address is automatically seen only by me when you leave a comment, so it will be on its way to you quickly.