Studying Under the Masters - Hopper 2
It is time for me to post my watercolor painting that was inspired by my week of studying and copying Edward Hopper. I take lots of reference photos as I travel around - locally and abroad, but I didn't have many with intense sunlight and deep shadows. The photo I chose was from our 2012 trip to Venice, Italy. We rented a lovely apartment that was in a very quiet Calle near Piazza San Marco.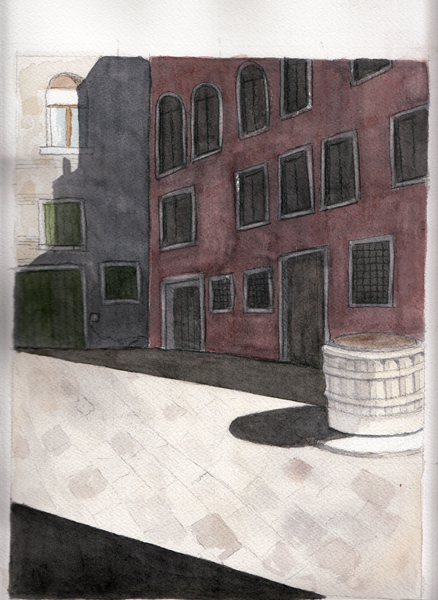 The entrance to our apartment building was through the furthest door - next to the point where the two buildings meet. The building faced the intersection of two small canals, and when we entered the building there was always water lapping on the stairs, under the door on the street level storage room. The old well was beautiful and it was easy to imagine ourselves in this very old courtyard, so near the Doge's Palace several hundred years ago.
The painting was done on Arches 140 lb cold press watercolor paper with Winsor-Newton watercolors. This time I didn't use any white gouache.