Odds and Ends
I decided to end my Studying Under the Masters Class after 8 weeks. It was WONDERFUL and I learned so much more about using my watercolors and my palette - much more because I learned it on my own through trial and error. The 9th apprentice and artist didn't interest me at all, so now I'm back to other projects.
I needed another new watercolor sketchbook and finally had time to make it. I overdyed a monoprint I didn't like and then added a screen print of one of my figure drawings that I made into a thermofax screen. This is a drawing of a pregnant model that I used before for other projects. This is a 48 page, 140 lb cased-in watercolor sketchbook, made using my standard method.
I haven't talked much about my Fashion Institute of Technology (FIT) spring semester class. I am taking silk dye painting and we are learning many techniques on one 36 X 36 inch piece of silk. In our second class we mixed a full range of dye colors from our 3 primaries plus black and now we refer to it as a general guide for all of our subsequent painting. Here is the grid created with gutta and then "painted" with the dye colors we mixed.
The second vertical row has our 3 primary and 3 secondary dye hues. Row one has tints of those (diluent added to lighten). Rows 3 and 4 are classic complementaries of the primaries and secondaries and their tints, and Rows 5 and 6 are their shades (black added to darken) and their tints.
We've used many types of resists to make butterflies and flowers (gutta, wax and water soluble), and played with salt and alcohol effects. They are all on the left side of the silk.
We are now working on "grounds" of wax or gutta/turpenoid and painting leaves. These are above and below the color grid - and this picture was taken before class this week before I finished my leaves. At the bottom is a textile design I made using Tjantings, stamps, and several layers of wax and dyes.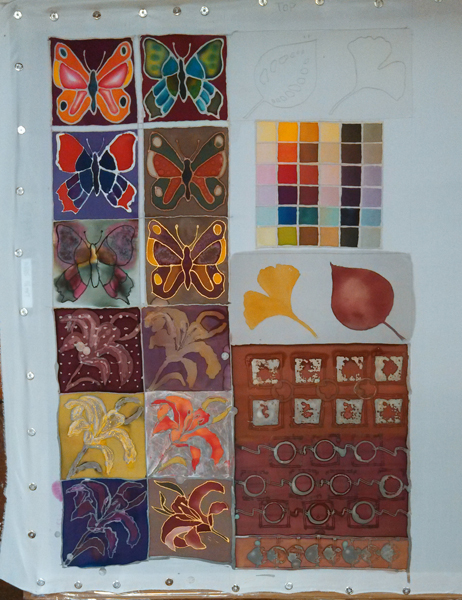 The right side of the silk now has a self-portrait I "painted" on the top and will have a stamped textile design using thickened dyes on the bottom section to finish this piece next week. Then the dyes will be steamed and the wax removed. In two weeks we will start another project for the second half of the semester.
Although I have experience with many of these techniques, I am still learning so much - and love being in a surface design studio for 4 hours each week!