Studying Under the Masters - Hopper 1
I am a self-taught watercolor artist I tried some watercolor painting in 2003-2005 with student grade pan watercolors. In 2005, I bought Winsor Newton artist grade watercolors in primary colors (warm and cool), and changed my very occasional painting habit into a quick daily sketch/painting in a 6 X 8" watercolor journal - at the same time that I partially retired.
I follow some wonderful watercolor artists on their blogs, and try to learn from copying Masters. By transforming oil paintings into watercolor paintings for each of the 8 Masters in this Studying Under the Masters Course, I have learned so much that I realize that my learning style is definitely one of working things out on my own.
For years I needed to increase the value range in my paintings and I knew it. And I desperately needed to learn how to paint deep shadows and bright sunlight. This week I specifically chose this Edward Hopper painting (Rooms By the Sea) to copy because it forced me to work out how to achieve that. Last night I asked Stephanie Lee - our apprentice for Hopper - whether she thought I should use the white paper, or white gouache for the bright light. She recommended that I start by leaving the paper white, and then adding gouache if needed.
This is the painting with the pure white paper showing the areas of sunlight and I'm pleased. Hopper's shadows looked like they were even one shade darker than mine when the watercolor dried, I painted over one of my unerased grid marks on the floor - and it will be there forever - YIKES!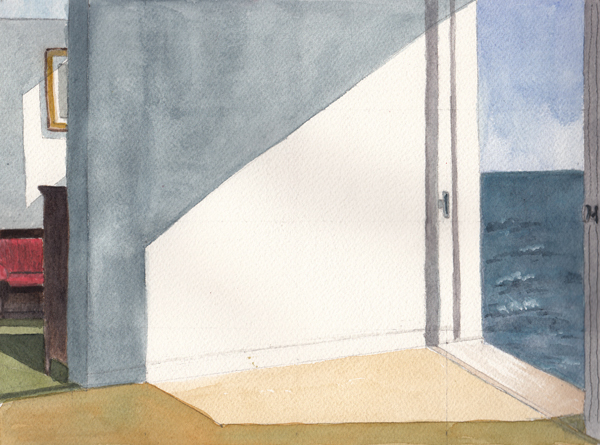 Photos Taken During Painting:
I remembered to take some photos of "work in progress" and here are a few of them. They are taken with my cell phone camera - and the final painting, shown above was scanned.
I did an under painting for the areas that would have deep shadows. Here you can see the detailed drawing and the first under painting with Yellow Ochre and French Ultramarine Blue...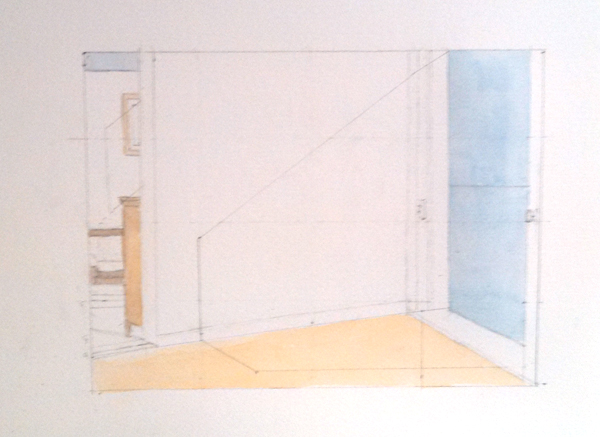 Then I built up layers of color using the same paint mixtures.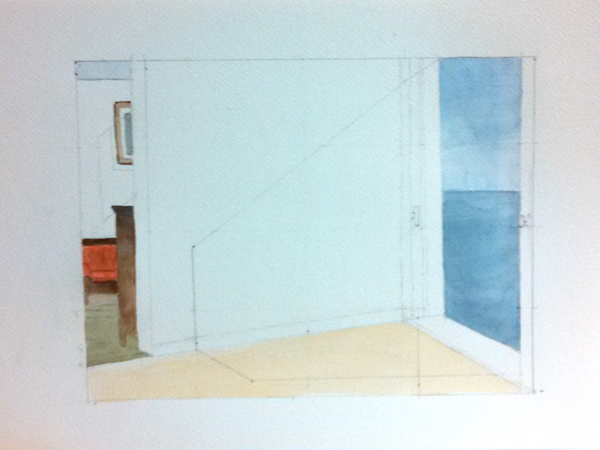 I tested the light and shadow in the far room, leaving the paper white, and making the shadow with Payne's Gray.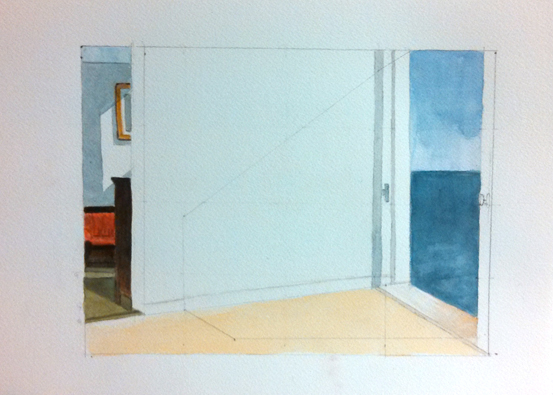 The big shadows on the wall and floor in the Final Painting were painted with Payne's Gray (Wall) and Yellow Ochre + Payne's Gray (floor).
Thanks Stephanie for choosing Edward Hopper as your Master. now I need to look at Reference Photos I've taken to work on a painting inspired by Hopper before Monday.