More Sewing With Sydney and Zach
Sydney (age 9) has a few more days of Spring Vacation and asked if she could come to sew with me. She specifically wanted to make another fusible applique placement - with lots of satin stitching on the machine.
When our children were very young I bought them hand crafted animal placemats in a store in Ghiardelli Square, San Francisco. Each animal was represented with a head, feet, and tail. I've designed many more since then. Yesterday we had to create a drawing of monkey, and dragged out my previous paintings to copy them.
Here is a painting that I did in Feb 2006 of Sydney's "Lovie" - the one in the center.
http://www.paperandthreads.com/2006/02/edm_challenge_54_someone_i_lov_1.php
She was 13 months old then and Monkey still sleeps with her and is a bit of a world traveler. The other two "Lovies" belong to her big brother Henry and her cousin Robbie.
Syd picked out the fabric and thread colors for her newest placemat - and here she is sewing and then with her finished placemat!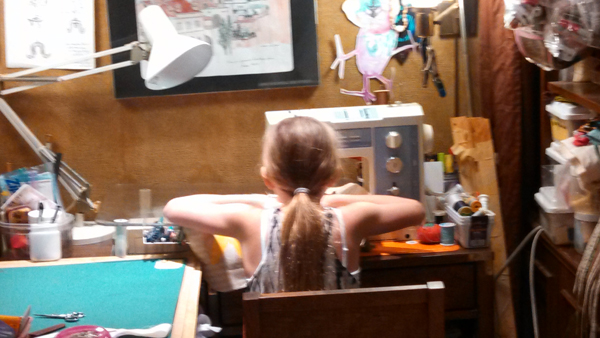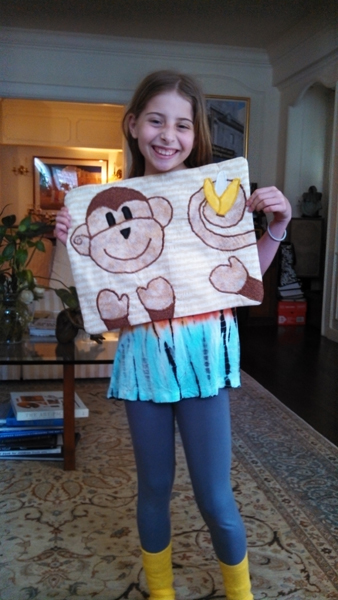 I promised my son's child Zachary - age 4 - that we could make him a new Zebra placement! So I had to design a zebra head, legs, and tail placemat for him and today he worked with me to trace the pattern, and learned about fusible. And then he sat on my lap and did an amazing job working the foot pedal as we stitched his zebra.