Two Galleries and an Art Museum
Pat, Benedicte, and I visited two 57th St Galleries before our Figure Drawing session in Battery Park City.
Pace Gallery: There is a Dubuffet show of 52 of his drawings from 1975 to 1985 - and most of them are wonderful black and white doodles. I sketched figures from two different drawings, a tree from a third - and then the red car from another. The exhibit ends on October 26th.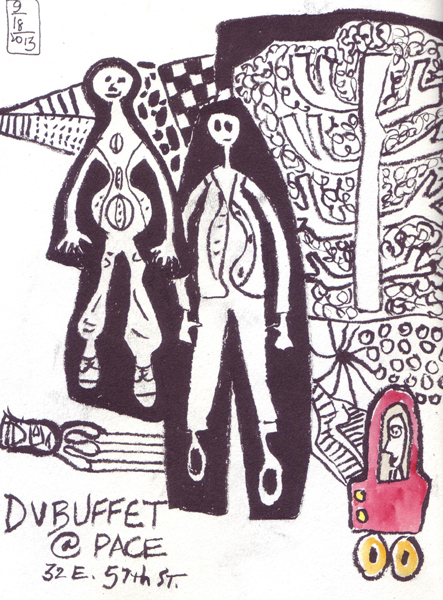 Marlborough Gallery has over 80 Matisse Prints which were done between 1900 and 1950. There were simple line figure drawings and more detailed prints of women in his classic clothes and settings. I love the simplicity of his classic figure drawings and always hope that by drawing them, I am incorporating some of his skills into my drawings. Wishful thinking!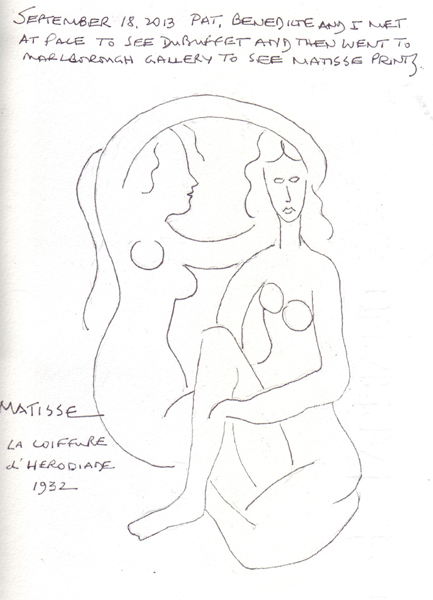 We were in DC for a few days visiting our family and while everyone was at work or school, my husband and I spent several hours at the National Gallery of Art East Wing. There was a small, but terrific Alexander Calder exhibit - with mobiles, wire sculptures, and 6 animobiles. I sketched a bull - and then the wire cow. The cow is only about 12 inches long and 6-8 inches high - perfect size for an apartment! More wishful thinking!