Annabelle's Sketchbook
I started a sketchbook for my grand daughter Annabelle when she was born. Since she lives in DC, I printed out my prior sketches from around her neighborhood and collaged them on the first 2 pages. Since then I fill a sketchbook page for every day that we visit her - and now her little brother William. Some previous blog posts from this sketchbook can be seen here.
The sketchbook is a Cachet Linen Watercolor Sketchbook and because I could use both sides of every page, I completed 50 pages.
We visited Annabelle and William last weekend. She is now 5 and loves to draw and paint, so we spent lots of time together at the dining room table. I collected leaves and maple seed pods on our walk home from her school and we painted them in the evening.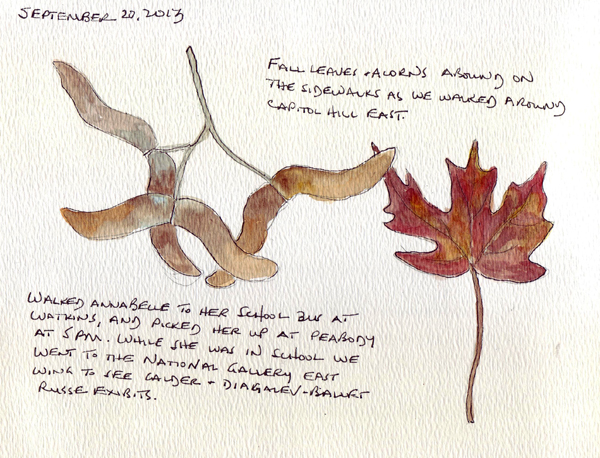 Annabelle is an official Nationals Junior Fan and has seen more baseball games in her short life than I saw in in my whole lifetime. She wanted me to add their mascot to the sketchbook, so that became the next page.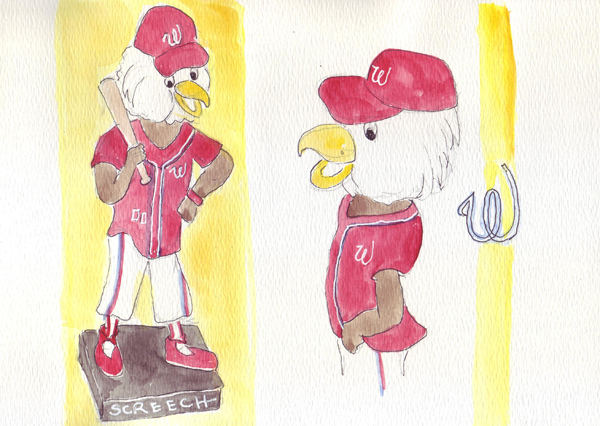 Annabelle told me that Henry, another kindergarten student, is her boyfriend and she wanted to build a castle for them to live in when they are married. The problem, the castle is going to be built in her cellar. We also talked about her dance classes. So I had to combine her castle, a crown, and her ballet shoe on the final page.