More Books Being Made Here
We are in the middle of a heat wave, and I prefer being in air conditioning as much as possible. I am taking Mary Ann Moss's summer fun class called SEWN, in which we are making patterns on paper and then using those painted sheets in various projects.
This week I made a book for the pattern sheets that I created in Central Park each morning over the July 4th holiday. I wanted to remember those mornings and wanted to save the paper - intact. So I had to design a book structure that let me put them in without punching holes in the pages. I accordion folded paper, every 1/2", making 5 valley folds and glued the left edge of the pattern pages to the right side of the valley - like you do for flag books. Then I made two covers and stitched the accordion between them using the Coptic stitch/accordion format. Two more pages of patterns were used for the end papers and a few random small pages were collaged onto the backs of the other pages. This book measures 7.5 x 11".
It felt good to know that I'm really learning how to make and use the various book structures for handmade books. Here are a few photos. The covers were made from more sheets of my paste paper. This paste paper design was created by rolling a pink rubber ball over the surface of the paper.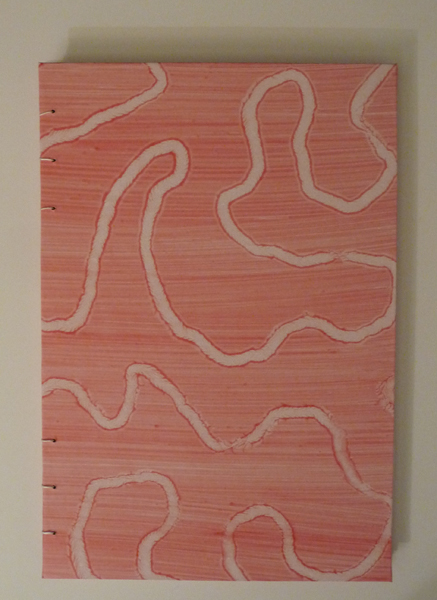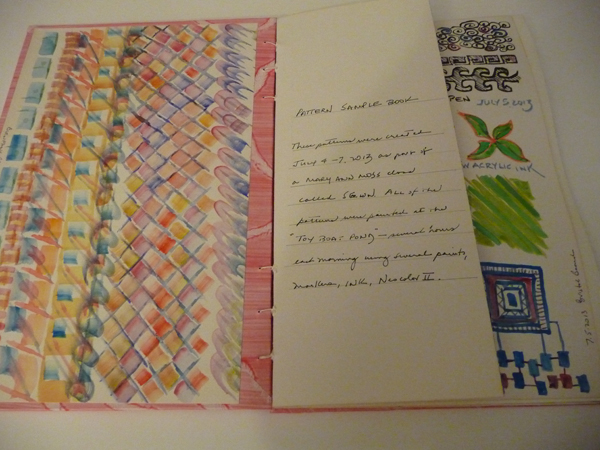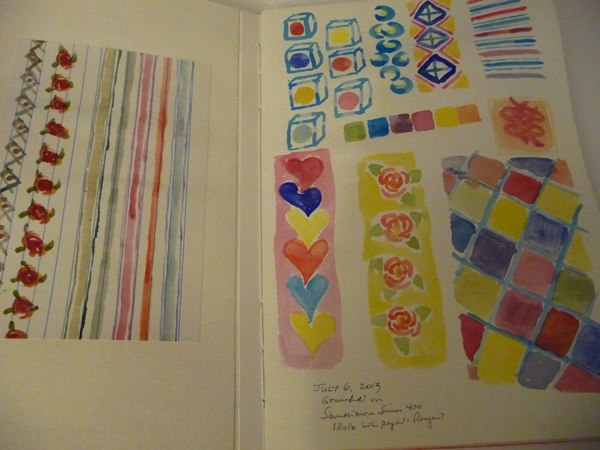 This week I also made a pamphlet stitched book of watercolor paper using the basic instructions for Teesha Moore's 16 page book. It uses a single 22 x 30" sheet of watercolor paper and creates an 8 x 10" portrait book. I modified the instructions for our second weekly SEWN project - and created octagons of my patterns mixed together with scraps of other papers left over from end papers etc. I laid out two octagons on the book cover, filled in the surrounding areas with more scraps and stitched it all together on my sewing machine.
I will use this book for more figure drawing practice - drawing with my paintbrush, so I put a print of my first few figures on the front and inside flap. Then because I've never done it before, I added beads, as dangles, on the spine.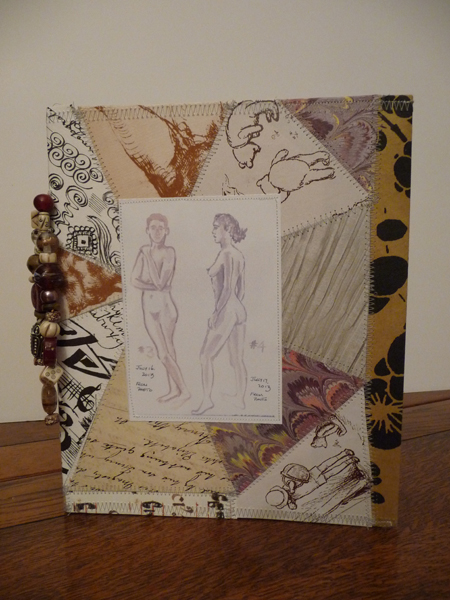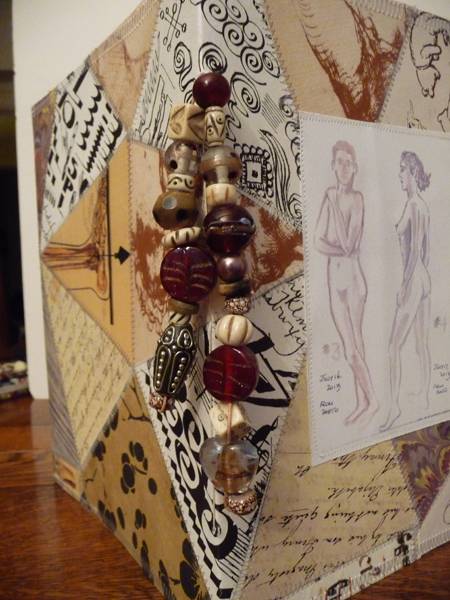 Readers of this blog may know that my challenge this year was to explore one new bookbinding structure each month. This is a photo of the books I made since January 1, 2013.