Potpourri
I am posting a variety of pages from my daily sketchbook.
There was a wonderful exhibit of Late Paul Klee paintings and drawings at the Metropolitan Museum of Art. I went early one morning, right before the exhibit closed, and immersed myself in these wonderful works. I wanted to draw one in my sketchbook and chose one that allowed me to test my Pentel Pocket Brush Pen. This ink is watersoluble on my handmade sketchbook with Fabriano Artistico Soft Press paper. So I decided to color the background with watercolor pencils, allow it to dry completely, and then draw the Girl in Mourning with my pen. It was the only tool that I had to copy the wide black lines on the Klee painting. And it worked.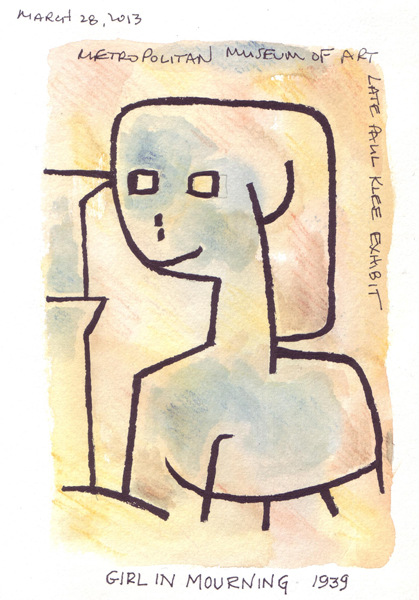 http://metmuseum.org/exhibitions/listings/2012/late-klee
There are no images on the exhibit website, but these were all works owned by the Met and can probably be seen by searching on the Met website.
On my walk home from the Met, I stopped at the New York University Institute for the Study of the Ancient World (15 E. 84th St). They have an exhibit on a "Temple and Tomb" from Prehistoric Malta (3600-2500 BCE). I loved one of the stone figures and especially the armature they used to display the head with the body. No pictures were allowed so it was the perfect sculpture for me to draw.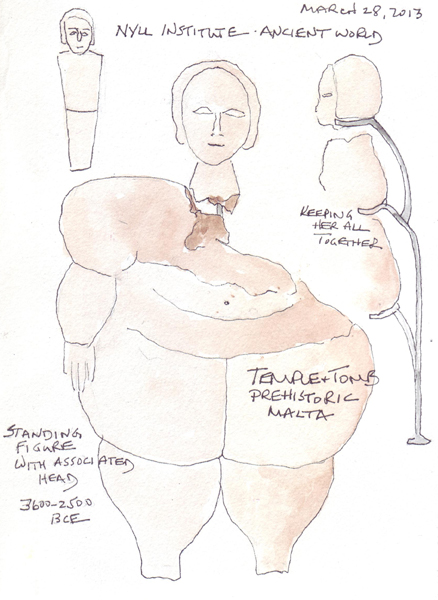 http://isaw.nyu.edu/exhibitions/malta
Carla Sonheim, the author of Drawing Lab, has a fun exercise for drawing silly animals. She uses a photo of sidewalk cracks to create these drawings and even has a crack of the month club so others don't need to search for great sidewalk cracks.
I used the one for April to draw an animal and then did a freehand drawing below - just for fun. I did all of the exercises in Carla's book, and really liked this exercise. I have photos saved to use in the future, but her cracks are much better than mine.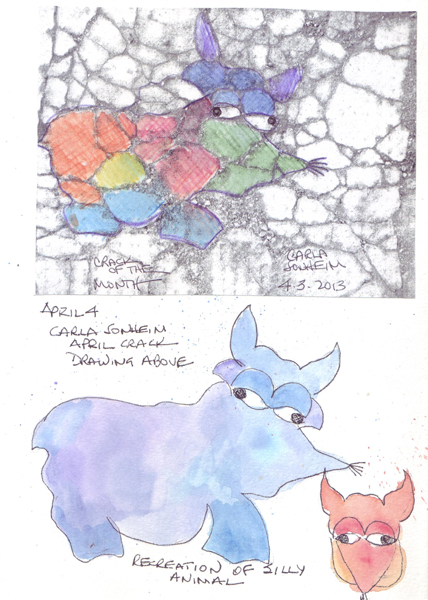 http://www.carlasonheim.com/sidewalk-cracks/
I like drawing portraits and find that stopping a TV show in order to draw a face is a great way to get faces to draw. Of course it is better to draw faces live, but models are not always available. I sketched this face with a Faber Castell Albrecht Durer watercolor pencil and then used a small waterbrush by Niji to "paint it."