New York Philharmonic Young People's Concert
My husband and I take some of our grandchildren to the NY Philharmonic Young People's Concert each year. It is geared to 6-12 year olds and as soon as our grandsons turn 6, they join us for the series of 4 concerts. This is 9 year old Henry's 4th year, 7 year old Robbie's 2nd year and 6 year old Callum's 1st year. Note: By their choice, I take our two grand daughters to the Nutcracker Ballet - where tickets for one performance are much more expensive than 4 Philharmonic Concerts!
Before the one hour concert, there is a one hour educational session called Kidzone. Members of the orchestra introduce 3 instruments to children and they get to try making sound with them. And there are at least 4-5 other activities which the boys LOVE! Robbie was at his first soccer game of the season on Saturday, but here are Henry and Callum learning about the trombone. That is Henry in front and his little brother Callum behind him.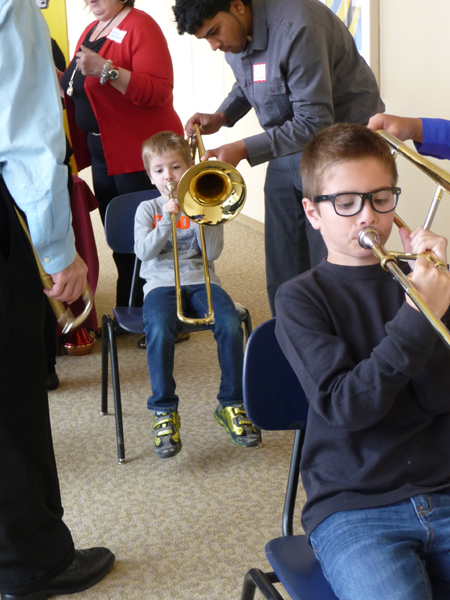 The boys love learning about the instruments and try to guess what they will be for each concert.
Henry decided that he wanted to play the violin and drums, about the same time that he started attending the concerts, and is extremely musical and talented. I sketched him while he was practicing the violin last month. And then sketched him yesterday playing the trombone (from a photo that I took on Saturday).