3 Drawings for Grandchildren
Neither my husband nor my own children ever open my sketchbooks and I doubt that any of them ever look at my blog. But my grandchildren love to find their toys and can usually remember how to find the pages. It is so nice to have them show interest, that I try to add sketches on a regular basis.
I took care of Charlie, our youngest grandchild, several weeks ago. While he was happily sitting in his infant seat - babbling and smiling, I sketched the dangling toys. Then he became grumpy and I never painted them.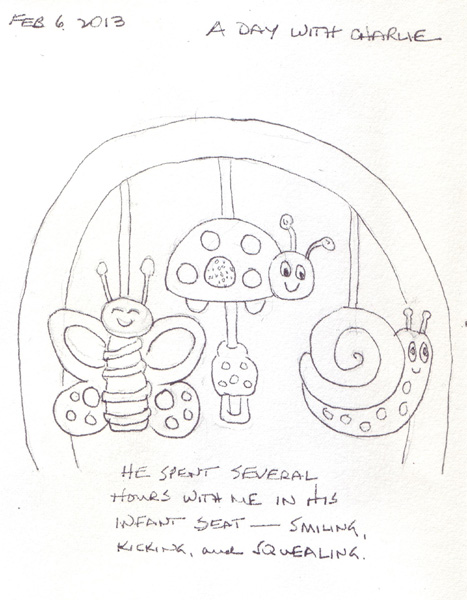 On another day, I was playing with his older brother, 3 year old Zachary, and he showed me his big cloth bag of wooden animals. He requested lots of animals for his birthday last year and my daughter-in-law found some wonderful wooden animals from Australia. I asked Zach if I could draw the elephant and he told me that he liked the "gray" animals best. There were 3 gray animals total - so I had to draw all 3!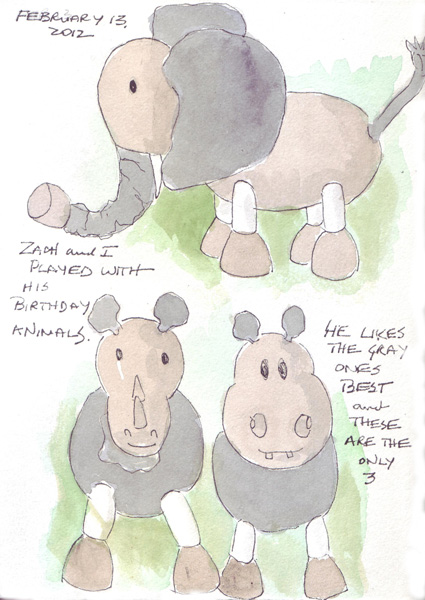 This weekend we had 5 of our grandchildren for a sleepover and Zach brought 6 Beanie Boo stuffed animals to sleep with. Six year old Callum was busy working with me on drawing exercises from Mona Brookes book, and inspired this drawing of the Beanie Boo lion. Before the weekend was over even Sydney sketched and painted the Beanie Boo elephant, but I forgot to scan it before she took it home.